Tech Wrap: Learn 5 Big News Today (TNI Exclusive)
Know here what was the condition of the tech world throughout the day. Here we are giving you the 5 big news stories of the world of technology, you can read our full news by clicking on the links given below…
Poco X2 new teaser released before launch, fingerprint sensor will be found in the side
Poco X2 is being launched in India on 4 February. As the day of launching gets closer, the company is releasing new teasers on social media handles to create buzz. It is now clear from the recent teaser that this upcoming phone will be the rebranded version of Redmi K30. As a reminder, Redmi K30 was launched in China in December last year. However, it has not yet been launched in India. Now there are indications from the new teaser that Redmi K30 can be launched as Poco X2 in India only.
These 6 smartphones of Realme will update Android 11, see list
In the recent #AskMadhav episode, Reality India CEO Madhav Seth said that his phones will get at least one major Android update and security patches for two years. Hearing this, users had asked on Twitter whether Android 11 will be updated in Realme X and Realme Pro Series. On this, Reality India CMO Francis Wang confirmed that two major Android updates will be given in both Realme X and Realme Pro Series and Android 11 will also be updated in them.
Finance Minister Nirmala Sitharaman on Saturday proposed a scheme for manufacturing cell phones, semi-conductors and other electronic devices. During his second budget presentation, the Finance Minister said that India needs to promote domestic manufacturing and attract investment in electronic manufacturing. The government aims to make every district an export hub.
Reliance Jio has launched a new JioTVCamera accessory to allow JioFiber users to make video calls. During the launch of Geofiber, the company had said that users will be able to make video calls with the help of Geofiber set-top boxes. JioTV camera is an accessory that will be attached to your TV set to facilitate video calling. At the moment it is not clear whether any third party camera will work with the set top box or not, but if you do not have a camera for TV video calling then you can buy JioTV camera from Jio's official website.
Huawei Band 4 cell starts in India, battery will run for 9 days, know the price
The sale of Huawei Band 4 has been started in India from today. It was launched in India a few days ago. The price was announced during the launch, however no information was given in terms of availability then. Customers can buy this new fitness band in graphite black color option. Talking about some of its special features, it has features like battery and sleep disorder diagnosis up to 9 days.
WhatsApp Web users should remember "these" commands; Check now online
WhatsApp users will be well familiar with WhatsApp web. It is used during office work. This platform makes it easy to use WhatsApp at work, but did you know that there are many more amazing features on WhatsApp web that very few users know about? Today we are going to learn some shortcuts related to WhatsApp Web that will be very useful and that will make it easier for you to use WhatsApp Web.
If you want to archive the chat on WhatsApp web, press the Ctrl + Alt + Shift + E button. This command will archive your chats.
Links to up to ten devices at once; Learn the amazing new features of WhatsApp
Sometimes you feel the need to pin the chat. If you also want to pin the chat, press Ctrl + Alt + Shift + P. Sometimes you suddenly need a specific chat on WhatsApp. We have to scroll down to find it manually, but we can also find it with shortcut commands if we want. For this, you need to press Ctrl + Alt + Shift + F button. You can also mute chat when you don't want WhatsApp notification. For this, you need to press Ctrl + Alt + Shift + M button. You need to delete such chats in WhatsApp from time to time that you don't need. This leaves the phone empty. If you want to delete a chat via WhatsApp web, you need to press the Ctrl + Alt + Backspace button.
Payment will now be made without opening the app; Learn about new Google Pay features
If you want to create a new group through WhatsApp web and also with the shortcut button, you need to press the Ctrl + Alt + Shift + N button.
2022-05-22 07:28:51
Flipkart Big Bachat Dhamaal Sale: Bumper Suits On Vivo, Samsung, Poco And Motorola Phones,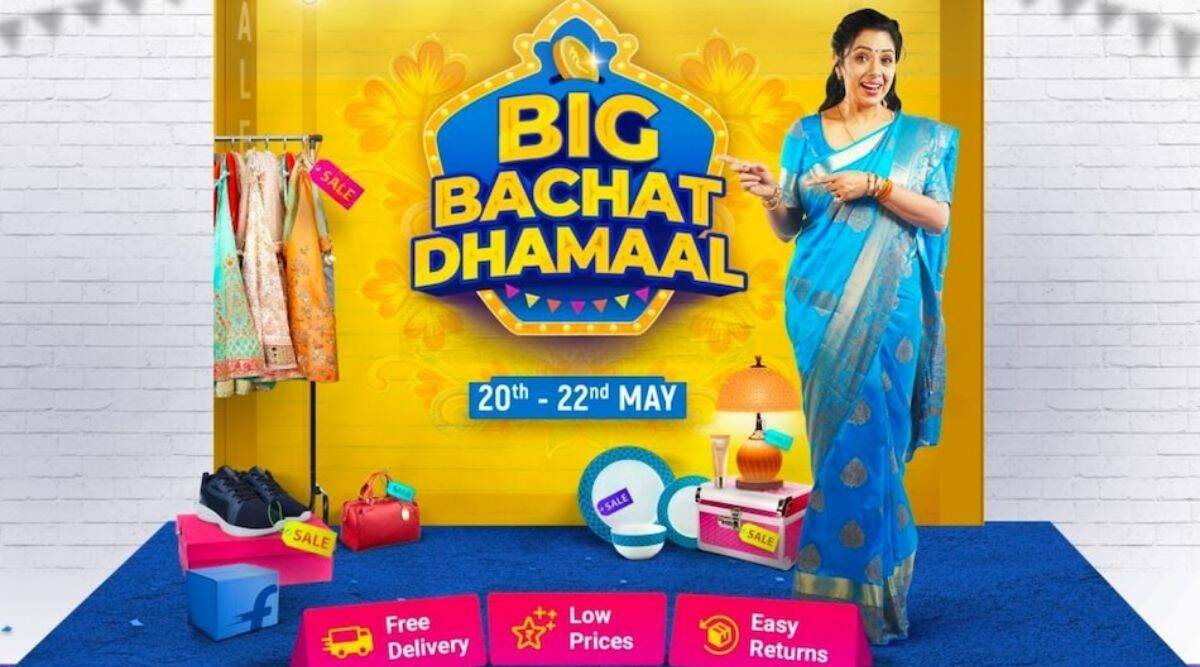 Big sale of Bachat Dhamaal has started on Flipkart e-commerce website. The Big Savings Dhamal sale began on May 20 and will continue through Monday, May 22. Discounts are offered on a wide range of products, including smartphones, fashion, and electronics. Smartphones like Motorola Edge 20 Fusion 5G, Moto G31, Vivo T1 5G, Poco M4 Pro are available with discounts at Flipkart Big Savings Cell. These phones will get trade-in offers along with discounts. The Flipkart sale claims up to 80 percent off electronics and accessories. Additionally, limited deals will be available on Flipkart on Sundays at 12:00, 8:00, and 16:00.
The Moto G31 is available for Rs 10,999 at Flipkart Big Savings Cell for three days. The phone was launched at Rs 12,999. The Motorola Edge 20 Fusion 5G smartphone, on the other hand, is priced at Rs 18,999, up from Rs 21,499 last year. Similarly, the Moto G40 Fusion is available for purchase at Rs 14,499 instead of the launch price of Rs 17,999.
In the Flipkart sale, there is an opportunity to buy the Poco M Pro 4G smartphone at 12,999. The phone was launched last year at Rs 14,999. The Poco C31 retails for Rs 7,4999 instead of Rs 7,999. Also, the 4GB RAM and 64GB storage variant of Poco M3 Pro 5G is available for Rs 14,499.
Read More: Jio, Airtel, Vi: Recharge Once, Talk Free All Year; Meet some abandonment plans
Also, the Vivo T1 5G starts at Rs 15,990. The phone was launched in February with a starting price of Rs 15,999. The 6GB RAM and 128GB storage variant of the Samsung Galaxy A52S 5G is on sale at Rs 30,999.
Apart from phones, Flipkart Big Bachat Dhamaal Sale is also offering up to 80% discount on gaming accessories. In addition, up to 70 percent off TV is offered. There is also the opportunity to save on accessories for laptops, TV streaming devices and wireless headphones.
2022-05-21 13:57:35
Good news! Cheap prepaid package for Rs 151, watch free Disney + Hotstar and 8 GB
Vodafone Idea (Vi) has launched a new pack of prepaid add-ons for its customers. In this plan, Disney+ Hotstar mobile subscription is available for free for 3 months. Vodafone's new data plan costs Rs 151 and you get 8 GB of data. Recently, the telecom company launched an add-on for Rs 82. In which SonyLiv mobile access is available for 28 days.
To compete with Vodafone Idea, Airtel has recently launched two new prepaid plans. With a free mobile subscription to Disney + Hotstar for three months. Airtel plans are priced at Rs 399 and Rs 839, valid for 28 days and 84 days.
According to the Vodafone Idea website, a total of 8 GB of data is available in the Rs 151 prepaid add-on package. This plan includes Disney+ Hotstar mobile subscription within three days. The validity of the plan is 30 days. It is not valid for service. Telecom Talk was the first to announce the plan.
Read More: Jio, Airtel, Vi: Recharge Once, Talk Free All Year; Meet some abandonment plans
In addition to the Rs 151 data add-on package, Vi recently launched a Rs 82 plan. The package comes with 4 GB of data, which is valid for 14 days, and includes a SonyLiv mobile subscription.
Since the start of the IPL, companies like Reliance Jio, Airtel, and Vi have been continually launching prepaid plans that come with Disney+ Hotstar subscriptions. Earlier this month, Airtel launched the 399 and 839 plans. The plan includes unlimited voice calls, 100 daily SMS and Hotstar subscriptions. Geo has cricket plans that offer features like hotstar subscriptions, unlimited calls and SMS.
2022-05-21 12:35:35