Realme X2 Pro: Lowest price specifications
Reality X2 Pro is the company's flagship smartphone.

Coming with a starting price of Rs 29,999, this smartphone has many great features with a 64-megapixel primary camera.
Critics Rating
4.0
Top Features
Equipped with 64 megapixel primary camera

Dhansu display with 90Hz refresh rate

The phone goes full charge in 35 minutes
Komal Mohan, New Delhi
Realme has registered a growth of 400 percent in the last one year by selling entry level and budget smartphones. This information has been obtained from the International Data Corporation. However, its new offering- Realme X2 Pro shows that the company now wants to challenge the giants of the mid premium segment. The company has kept its initial price of Rs 29,999. It is the most expensive and powerful smartphone of Reality. Realme X2 Pro has an aluminum unibody with Gorilla Glass 5 protection. Its glossy back catches finger spots quickly. This handset feels a bit heavy. Especially, when used with one hand.
The stunning rear camera and display offers a 6.5-inch full HD Plus AMOLED panel with a 90Hz refresh rate in Real X2 Pro. The colors look quite accurate in this. Its bezels are quite thin and have a small notch at the top, which offers a 15-megapixel selfie camera with f / 2.0 aperture. At the same time, there is a quad camera setup in the rear. It has a primary 64 megapixels, which by default takes pictures of 16 megapixels. By using a special mode of 64 megapixels, a great photo can be taken in good light condition. It has a 13 megapixel telephoto camera with 20X digital zoom. Pictures taken with this lens are good, but 20X zoom shows a lot of noise.
Reality X2 Pro Review
It also has an 8 megapixel ultra wide angle sensor, which works average with Dal Colors. However, it gives tremendous detail in the macro shot – 2.5 cm range. Apart from this, there is also a 2 megapixel depth sensor, which helps in taking out impressive bokeh shots. Even in low light, most parts of the picture appear with good detail. Selfie buffs will love the night mode support in the front camera.
Strong processor makes phone fast
Real X2 Pro 8/12 GB RAM option is available. It gets strength from the latest Qualcomm Snapdragon 855 Plus. It performs all tasks without any lag. The X2 Pro is a bit hot when playing heavy games like Call of Duty, but does not reach the level of difficulty. Its ColorOS user interface may look a little strange, which comes with some unnecessary preloaded apps. The battery of Real X2 Pro is charged in 35 minutes with 50W wook charging support. This can be a good option for those looking for flagship level specifications in mid-range price.
WhatsApp Web users should remember "these" commands; Check now online
WhatsApp users will be well familiar with WhatsApp web. It is used during office work. This platform makes it easy to use WhatsApp at work, but did you know that there are many more amazing features on WhatsApp web that very few users know about? Today we are going to learn some shortcuts related to WhatsApp Web that will be very useful and that will make it easier for you to use WhatsApp Web.
If you want to archive the chat on WhatsApp web, press the Ctrl + Alt + Shift + E button. This command will archive your chats.
Links to up to ten devices at once; Learn the amazing new features of WhatsApp
Sometimes you feel the need to pin the chat. If you also want to pin the chat, press Ctrl + Alt + Shift + P. Sometimes you suddenly need a specific chat on WhatsApp. We have to scroll down to find it manually, but we can also find it with shortcut commands if we want. For this, you need to press Ctrl + Alt + Shift + F button. You can also mute chat when you don't want WhatsApp notification. For this, you need to press Ctrl + Alt + Shift + M button. You need to delete such chats in WhatsApp from time to time that you don't need. This leaves the phone empty. If you want to delete a chat via WhatsApp web, you need to press the Ctrl + Alt + Backspace button.
Payment will now be made without opening the app; Learn about new Google Pay features
If you want to create a new group through WhatsApp web and also with the shortcut button, you need to press the Ctrl + Alt + Shift + N button.
2022-05-22 07:28:51
Flipkart Big Bachat Dhamaal Sale: Bumper Suits On Vivo, Samsung, Poco And Motorola Phones,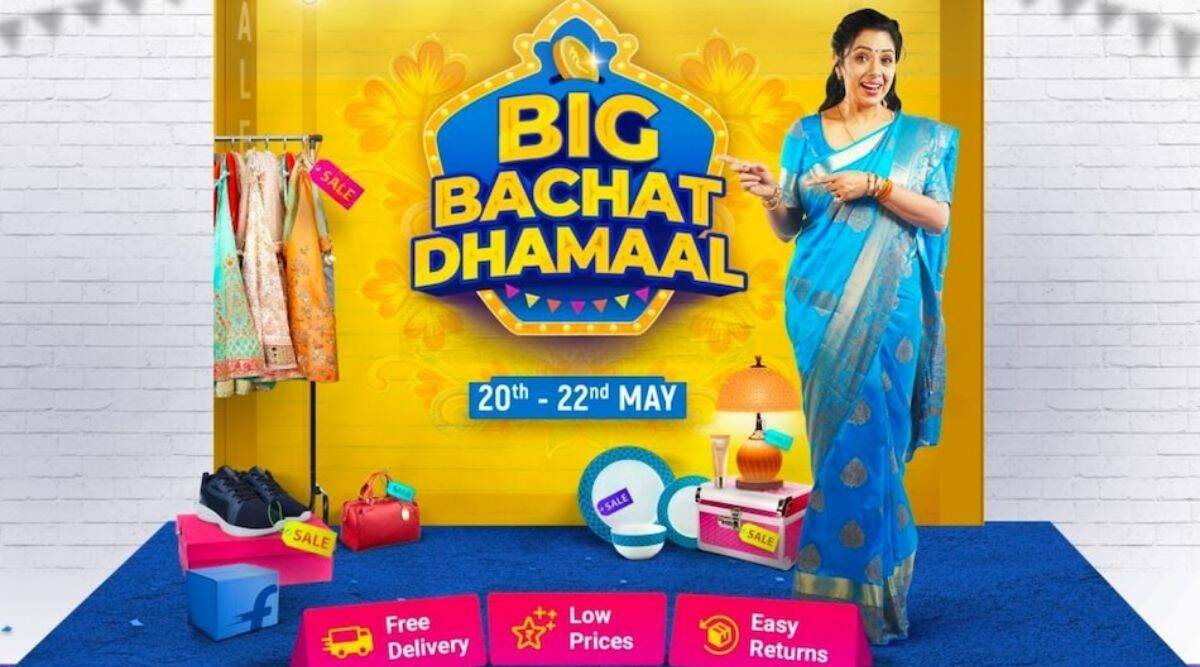 Big sale of Bachat Dhamaal has started on Flipkart e-commerce website. The Big Savings Dhamal sale began on May 20 and will continue through Monday, May 22. Discounts are offered on a wide range of products, including smartphones, fashion, and electronics. Smartphones like Motorola Edge 20 Fusion 5G, Moto G31, Vivo T1 5G, Poco M4 Pro are available with discounts at Flipkart Big Savings Cell. These phones will get trade-in offers along with discounts. The Flipkart sale claims up to 80 percent off electronics and accessories. Additionally, limited deals will be available on Flipkart on Sundays at 12:00, 8:00, and 16:00.
The Moto G31 is available for Rs 10,999 at Flipkart Big Savings Cell for three days. The phone was launched at Rs 12,999. The Motorola Edge 20 Fusion 5G smartphone, on the other hand, is priced at Rs 18,999, up from Rs 21,499 last year. Similarly, the Moto G40 Fusion is available for purchase at Rs 14,499 instead of the launch price of Rs 17,999.
In the Flipkart sale, there is an opportunity to buy the Poco M Pro 4G smartphone at 12,999. The phone was launched last year at Rs 14,999. The Poco C31 retails for Rs 7,4999 instead of Rs 7,999. Also, the 4GB RAM and 64GB storage variant of Poco M3 Pro 5G is available for Rs 14,499.
Read More: Jio, Airtel, Vi: Recharge Once, Talk Free All Year; Meet some abandonment plans
Also, the Vivo T1 5G starts at Rs 15,990. The phone was launched in February with a starting price of Rs 15,999. The 6GB RAM and 128GB storage variant of the Samsung Galaxy A52S 5G is on sale at Rs 30,999.
Apart from phones, Flipkart Big Bachat Dhamaal Sale is also offering up to 80% discount on gaming accessories. In addition, up to 70 percent off TV is offered. There is also the opportunity to save on accessories for laptops, TV streaming devices and wireless headphones.
2022-05-21 13:57:35
Good news! Cheap prepaid package for Rs 151, watch free Disney + Hotstar and 8 GB
Vodafone Idea (Vi) has launched a new pack of prepaid add-ons for its customers. In this plan, Disney+ Hotstar mobile subscription is available for free for 3 months. Vodafone's new data plan costs Rs 151 and you get 8 GB of data. Recently, the telecom company launched an add-on for Rs 82. In which SonyLiv mobile access is available for 28 days.
To compete with Vodafone Idea, Airtel has recently launched two new prepaid plans. With a free mobile subscription to Disney + Hotstar for three months. Airtel plans are priced at Rs 399 and Rs 839, valid for 28 days and 84 days.
According to the Vodafone Idea website, a total of 8 GB of data is available in the Rs 151 prepaid add-on package. This plan includes Disney+ Hotstar mobile subscription within three days. The validity of the plan is 30 days. It is not valid for service. Telecom Talk was the first to announce the plan.
Read More: Jio, Airtel, Vi: Recharge Once, Talk Free All Year; Meet some abandonment plans
In addition to the Rs 151 data add-on package, Vi recently launched a Rs 82 plan. The package comes with 4 GB of data, which is valid for 14 days, and includes a SonyLiv mobile subscription.
Since the start of the IPL, companies like Reliance Jio, Airtel, and Vi have been continually launching prepaid plans that come with Disney+ Hotstar subscriptions. Earlier this month, Airtel launched the 399 and 839 plans. The plan includes unlimited voice calls, 100 daily SMS and Hotstar subscriptions. Geo has cricket plans that offer features like hotstar subscriptions, unlimited calls and SMS.
2022-05-21 12:35:35