Fossil Gen 5 Carlyle HR: Premium smartwatch with good looks, strong battery
It has not been much time since the Fossil Gen5 Carlyle HR was launched.

This smartwatch is equipped with a superb design, we have reviewed its stainless steel variant.

Let's know what is special in this latest smartwatch of Fossil.
Robin Sinha, With the craze of New Delhi smartwatch growing among buyers, all types of brands from technology to fashion are trying to make a place in this market. Lifestyle brand Fossil has launched new smartwatches in the last two years. She wants to offer her products as an alternative to Apple Watch. Fossil's latest smartwatch is the Gen5 Carlile HR. It costs Rs 22,995. Is it worth spending so much money for this?
The premium touch
we get from the metal case and strap is the Fossil Gen5 Carlyle HR, the best looking smartwatch in the market. We have reviewed its stainless steel variant. It gets a premium touch with its metal case and strap. Two buttons and speakers on the left side give the watch a good look. Due to the metal, it weighs slightly more.
Works on Google Wear operating system
However, it has Google Wear operating system, which can act as a deal breaker. Despite upgrading the system several times, Google has not been able to bring it to the desired level and its productivity is low. This software gives you the option of customization, but overall it has limited advantages. Wear OS works better with Android than iOS (iPhone). It gives notifications of all messages and third party apps. The software also tracks your health. For this it uses Google Fit and Nike Run Club App. However, the design smartwatch does not prove useful for those who want to use it during workouts. The device can be inserted into the fashion accessory segment. Equipped with battery saving option
Talking about battery performance, the Gen5 Carlile HR can run all day. Despite its Always On feature and other sensors running continuously in the background, the battery lasts all day. Many users may have to charge it before 24 hours. Fossil's new smartwatch has a variety of battery saving options, such as daily mode, extended mode, time only mode, and a custom mode in which you can decide for yourself which features will be turned on.
There is no loss to take
Overall, Fossil Carlyle is good in terms of HR design and performance. Running it is like a good experience and features can be enjoyed by swiping. Wear OS can be further improved. If you want to show off a good looking smartwatch, then Fossil Gen 5 Carlile HR is a great option.
Flipkart Big Bachat Dhamaal Sale: Bumper Suits On Vivo, Samsung, Poco And Motorola Phones,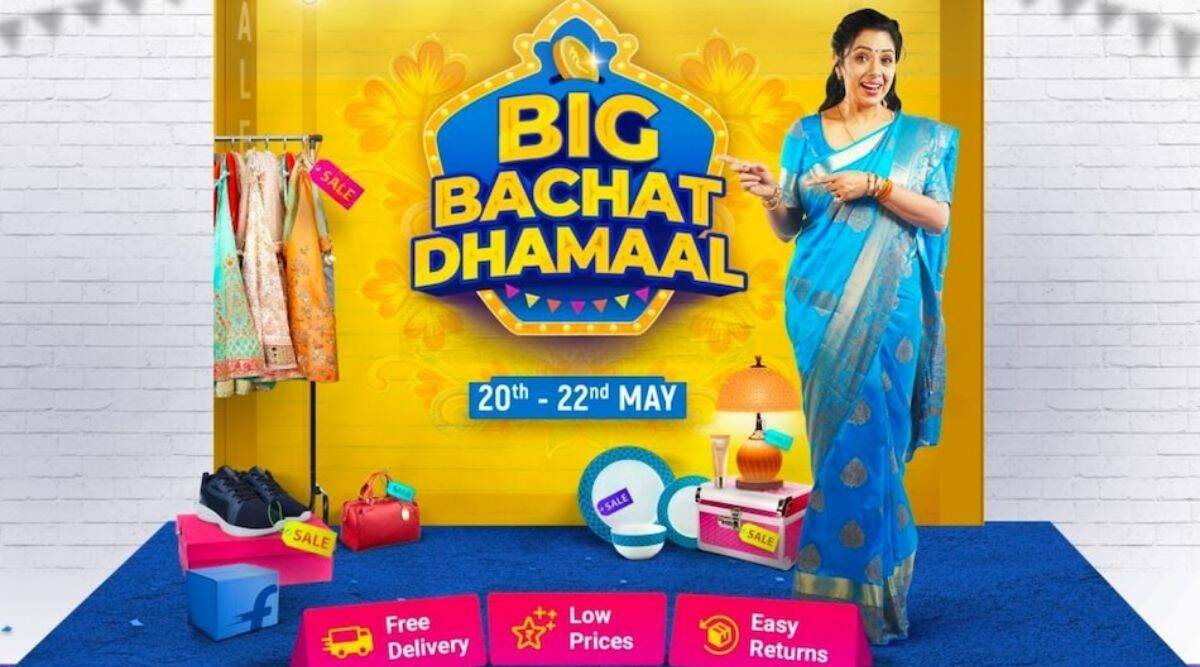 Big sale of Bachat Dhamaal has started on Flipkart e-commerce website. The Big Savings Dhamal sale began on May 20 and will continue through Monday, May 22. Discounts are offered on a wide range of products, including smartphones, fashion, and electronics. Smartphones like Motorola Edge 20 Fusion 5G, Moto G31, Vivo T1 5G, Poco M4 Pro are available with discounts at Flipkart Big Savings Cell. These phones will get trade-in offers along with discounts. The Flipkart sale claims up to 80 percent off electronics and accessories. Additionally, limited deals will be available on Flipkart on Sundays at 12:00, 8:00, and 16:00.
The Moto G31 is available for Rs 10,999 at Flipkart Big Savings Cell for three days. The phone was launched at Rs 12,999. The Motorola Edge 20 Fusion 5G smartphone, on the other hand, is priced at Rs 18,999, up from Rs 21,499 last year. Similarly, the Moto G40 Fusion is available for purchase at Rs 14,499 instead of the launch price of Rs 17,999.
In the Flipkart sale, there is an opportunity to buy the Poco M Pro 4G smartphone at 12,999. The phone was launched last year at Rs 14,999. The Poco C31 retails for Rs 7,4999 instead of Rs 7,999. Also, the 4GB RAM and 64GB storage variant of Poco M3 Pro 5G is available for Rs 14,499.
Read More: Jio, Airtel, Vi: Recharge Once, Talk Free All Year; Meet some abandonment plans
Also, the Vivo T1 5G starts at Rs 15,990. The phone was launched in February with a starting price of Rs 15,999. The 6GB RAM and 128GB storage variant of the Samsung Galaxy A52S 5G is on sale at Rs 30,999.
Apart from phones, Flipkart Big Bachat Dhamaal Sale is also offering up to 80% discount on gaming accessories. In addition, up to 70 percent off TV is offered. There is also the opportunity to save on accessories for laptops, TV streaming devices and wireless headphones.
2022-05-21 13:57:35
Good news! Cheap prepaid package for Rs 151, watch free Disney + Hotstar and 8 GB
Vodafone Idea (Vi) has launched a new pack of prepaid add-ons for its customers. In this plan, Disney+ Hotstar mobile subscription is available for free for 3 months. Vodafone's new data plan costs Rs 151 and you get 8 GB of data. Recently, the telecom company launched an add-on for Rs 82. In which SonyLiv mobile access is available for 28 days.
To compete with Vodafone Idea, Airtel has recently launched two new prepaid plans. With a free mobile subscription to Disney + Hotstar for three months. Airtel plans are priced at Rs 399 and Rs 839, valid for 28 days and 84 days.
According to the Vodafone Idea website, a total of 8 GB of data is available in the Rs 151 prepaid add-on package. This plan includes Disney+ Hotstar mobile subscription within three days. The validity of the plan is 30 days. It is not valid for service. Telecom Talk was the first to announce the plan.
Read More: Jio, Airtel, Vi: Recharge Once, Talk Free All Year; Meet some abandonment plans
In addition to the Rs 151 data add-on package, Vi recently launched a Rs 82 plan. The package comes with 4 GB of data, which is valid for 14 days, and includes a SonyLiv mobile subscription.
Since the start of the IPL, companies like Reliance Jio, Airtel, and Vi have been continually launching prepaid plans that come with Disney+ Hotstar subscriptions. Earlier this month, Airtel launched the 399 and 839 plans. The plan includes unlimited voice calls, 100 daily SMS and Hotstar subscriptions. Geo has cricket plans that offer features like hotstar subscriptions, unlimited calls and SMS.
2022-05-21 12:35:35
Here are 10 important things about your air conditioner that you may not know.
Air conditioners (ACs) are one of the most used home appliances in summer, especially in India. Since the modern air conditioner is relatively powerful and energy efficient, sales of this device have increased tremendously in recent years. The popularity of ACs has also raised awareness of their use. But, there are still some things you may not know about air conditioners. So today we are going to tell you 10 things you should know about AC.
1. Keeping the ceiling fan on medium speed while the air conditioner is running helps cool down the room quickly. Running the ceiling fan on low or medium speed while the air conditioner is on helps cool down the room quickly. Once you have adjusted the temperature of your air conditioner to the optimal level, the fan should also turn on to allow fresh air to circulate in the room. Keep in mind that running a fan in the room at high speeds while the air conditioner is on can be counterproductive, as it may take longer than necessary to cool the room.
2. The energy efficiency of the air conditioner changes every few years. In India, air conditioning temperature is measured based on the seasons. This is the ratio between CSTL (Total Seasonal Cooling Load) and CSEC (Seasonal Cooling Energy Consumption). Simply put, it is the amount of annual heat that AC can remove from the total energy used in a year. The temperature of any air conditioner is measured between 24 and 43 degrees Celsius, an average based on the outside temperature. Therefore, the temperature of the air conditioner changes every few years. This means that there is no guarantee that your 5-star AC will still be 5-star AC next year.
3. Setting a thermostat to a lower temperature means better cooling. Newcomers believe that air conditioning provides better cooling when the temperature setting is lower. But that is not the case. According to the Bureau of Energy Efficiency (BEE), 24 degrees is the ideal temperature for the human body and any air conditioner will require less load to set that temperature than the lowest temperature setting.
4. Keeping the air conditioner out of sunlight increases its efficiency Although the air conditioner's job is to keep the room cool, keeping the air conditioner as cold as possible can increase its efficiency. Keeping the air conditioner out of direct sunlight or in the shade protects it from overheating and makes it easier for the air conditioner to cool down. If it is too hot before you turn on the air conditioner, it may take longer for the room to cool down.
5. Dirty filters can reduce air conditioning cooling and increase electricity bills. Dirty air conditioning filters can interfere with cooling the air. As a result, the air conditioner takes longer to cool the room. As a result, electricity bills can skyrocket. It is recommended to keep the AC filter clean. Experts suggest that you clean the filter every two weeks to allow for airflow and cooling.
6. The number of people in a room affects the cooling of the air conditioner. You may have noticed that even if there is a lot of air conditioning running in a restaurant, theater, or any other public place, the cooling gradually decreases with the number of people in the room. One might think that the cooling efficiency of an air conditioner depends on the size of the room and the capacity of the air conditioner, but the number of people in the room also affects cooling. Simply put, the more people in a room, the slower the cooling.
7. Such ACs don't require service for years, it's said… Most companies claim their AC doesn't require service. But this is a myth. It is recommended that you have your air conditioner checked regularly. In India, the air conditioner is not used throughout the year and when it is not in use, it becomes dusty. Maintaining your AC will increase its cooling efficiency, resulting in lower energy consumption.
8. Most of us want our air conditioner to cool down as soon as we press the button on the remote. To do this, most people turn off the AC at the remote and don't turn off the main breaker. This causes electricity to be wasted in the form of 'passive charging'. This is because in this condition the compressor is kept idle so that it can be restarted immediately after the air conditioner is turned on.
9. Inverter AC has nothing to do with battery inverters. Inverter AC are called because they use technology that can change your cooling capacity by adjusting the frequency of power supply to your compressor. Both inverters and non-inverters can be powered by AC battery inverters. This is possible if the batteries are large enough to support the AC load.
10 'No stabilizer' AC does not mean you don't need a stabilizer at all. This is not to say that the AC has a voltage stabilizer and they don't need it. A voltage stabilizer is designed to automatically maintain a constant voltage level for AC loads so there are no power failures due to noise. A voltage stabilizer is required if the area you live in has voltage fluctuations above the operating voltage limit.
2022-05-20 12:04:15