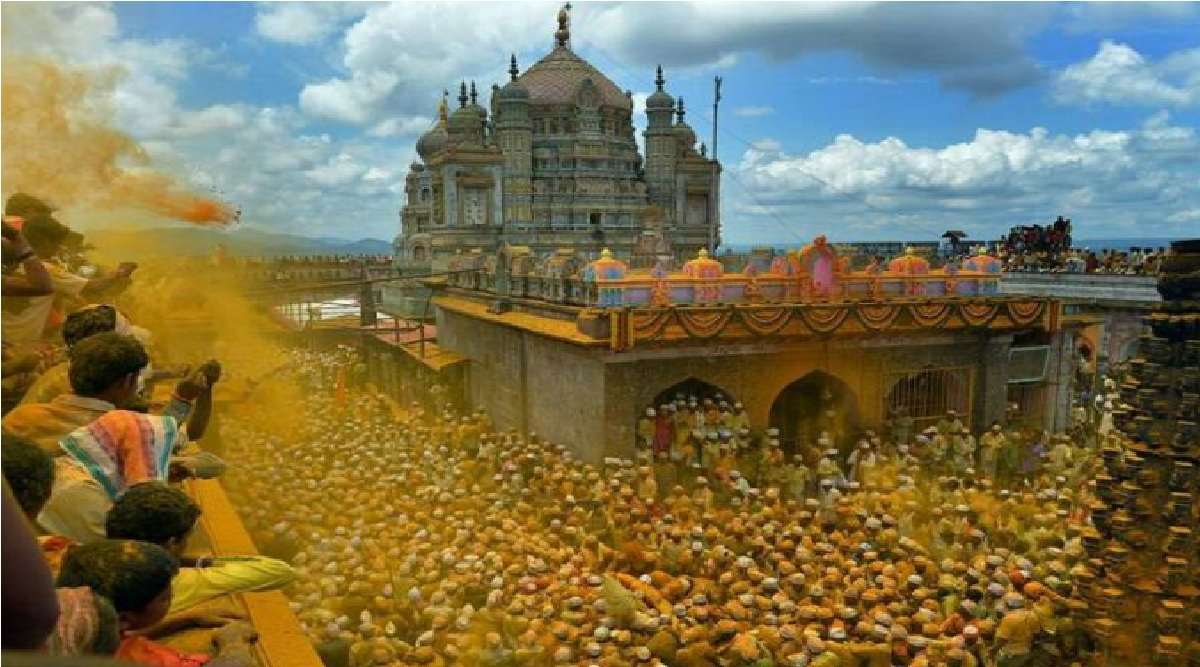 Work on the first phase of the Rs 109.57 crore Shri Kshetra Jejuri Gad Sanctuary Development Plan was approved today at the summit committee meeting chaired by Chief Minister Uddhav Thackeray. While preserving and conserving historical monuments, it is necessary to preserve the original style of the monuments and these works should be done through archaeological institutes, Chief Minister Uddhav Thackeray said. While the temple in Jejuri Fort is preserved and conserved, other temples in the area should also be protected by the Archaeological Department, he added. In the first phase, the preservation and conservation of the Jejuri temple and fortress, as well as the facilities and water management, will be carried out.
Read also >>> Flooding in Aurangabad; The BJP agitation led by Devendra Fadnavis
The meeting was attended by Deputy Chief Minister Ajit Pawar, Public Works Minister Ashok Chavan, Urban Development Minister Eknath Shinde, MP Supriya Sule, MLA Sanjay Jagtap, Chief Secretary Manukumar Srivastava, senior officials from concerned departments, the Pune District Collector Dr. Rajesh Deshmukh and other officials were present.
Also read >>> Responses to Fadnavi who said Thackeray government should have lowered fuel prices further; He said, "Hanuman Chalisa"
In the first phase, under the Jejuri Gad Development Plan, the conservation and upkeep of tourist structures, infrastructure and facilities, and water management will be carried out. These include scientific cleaning of stones, removal of unplanned and harmful joints, repair of damaged lime plaster, repairs to stop water leaks, electrical installations, water supply, drainage system, drainage and reuse of that water, system Proper ventilation, cleaning dust collection equipment in the temple area. , Solid Waste Management, Devotee Facilities, Crowd Management, Emergency Management and Green Schemes.
Read also >>>… So I would have done it by setting up a stand next to Uddhav Thackeray; Jitendra Awhad spoke clearly
Shri Kshetra Jejuri Gad Shrine Temple supporting area is 167 m2 and Kota area is 1240 m2. Around one and a half to two lakh devotees visit here every day during the Yatra festival and around 40 to 50 lakh devotees visit here every year. This temple has a rich historical heritage and is a family deity of citizens of many states. Since it has not been preserved or fed in the last 250 years, it is essential. Deshmukh made a presentation.
Read also >>> Poisoning at a wedding in Latur, 250 people treated in different hospitals
Deputy Chief Minister Ajit Pawar said measures must be taken not to grow trees on the historic structures and the structures must be kept in their original form without painting on the stones. He also suggested that these works be carried out under the innovative scheme of the funds of the District Planning Commission. However, the Minister of Public Works, Ashok Chavan, suggested that the work under the jurisdiction of the Archaeological Department should be carried out by experts in the field.
Read also >>> Devendra Fadnavis aggressive again on fuel tariff; Criticizes state government, says 'shameful'
In the budget session of the year 2021-22, the government announced that funds will be provided for the development of Shri Kshetra Jejuri Gad (Tal. Purandar, Dist. Pune) known as 'Khanderayachi Jejuri'. Accordingly, District Collector Pune has prepared a plan to implement the Shri Kshetra Jejuri Gad Shrine Development Plan amounting to Rs 349.45 million in three phases.