Shiv Sena Speaker and MP Sanjay Raut visited Kolhapur on Sunday amid political accusations in the state over Shiv Sena's candidacy of Sambhaji Raje Chhatrapati for the Rajya Sabha elections. During the visit, he met with Shrimant Shahu Maharaj and they discussed the issue. Raut then took aim at the opposition while explaining his position at a news conference. However, in commenting on all these developments, BJP MLA Nitesh Rane has lost his footing. While criticizing Sanjay Raut at the press conference, Nitesh Rane compared Raut to Shahu Maharaj's dog.
Definitely read >> "It was BJP who got Sambhaji Raje involved, Raje met Fadnavis and for support…"; Mentioning Raj Thackeray too, Shiv Sena's attack
Nitesh Rane, who is on tour in Kolhapur, held a press conference on Monday night. At that time he was asked about Sanjay Raut's visit to Kolhapur. In response to this, Nitesh Rane made a serious accusation that Sanjay Raut was now trying to burn down Chhatrapati's house. Nitesh Rane has taken aim at Raut, saying that Sanjay Raut was also among those who started the fire between Raj Thackeray and Uddhav Thackeray.
Nitesh has alleged that Sanjay Raut is now trying to set Chhatrapati's house on fire, saying that people who mention Sanjay Raut just don't need security guards. "Yesterday I was setting fire to Thackeray's house. Today it's time to get to Chhatrapati's house. So sometimes the bodyguards around them must have 10 minutes off or send them on leave. Such people don't need bodyguards. I'm saying that a small Maratha community should take over. Balasaheb Thackeray's house that he set on fire is on fire today," Nitesh Rane said. "It just came to our notice then. I can tell you that Sanjay Raut will have to realize that he will dare to start this fire at some point or another," said Nitesh Rane.
Definitely read >> "The general public in India because Kirit Kaka was not brought to the Rajya Sabha"; NCP's Mitkari Tola Shares Somaiya's Smiling Photo
While criticizing Raut, Nitesh Rane lost his balance. Nitesh compared MP Sanjay Raut to Shahu Maharaj's dog. "I would really appreciate Shahu Maharaj for putting Sanjay Raut in the right place. His dog is sitting on one side and Sanjay Raut is sitting on the other side. I gave them the right spot in the right place. One was his pet. Vertical Maharashtra knows whose other mascot is. He dances on someone's cookie. So they gave him the right spot," said Nitesh Rane, referring to Raut.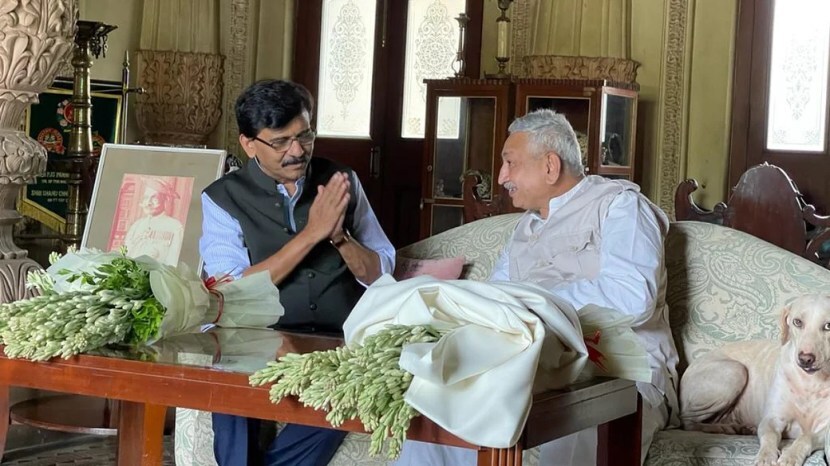 Nitesh Rane also said that if Devendra Fadnavis had given his word, he would have chosen Sambhaji Raje. "The honor given to Sambhaji Raje by BJP, given by Devendra Fadnavis, given by PM Modi, given by Amit Shah. Ever ask Sambhaji Raje what honor he has been given during his six years in Parliament. Tomorrow Devendra Fadnavis I would have given them my word that we give you a deputy or they elect you as an independent. 101 percent would have been elected. His name is Devendra Fadnavis, not Uddhav Thackeray. The one who spreads the word is called Uddhav Thackeray," said Nitesh Rane.
Read more >> Comparison of Shahu Maharaj and Sharad Pawar by Awadh; In the publication under the title 'Pluralism vs. Manuvad', he said, "Sanatani and…"
Speaking further, Nitesh Rane, Uddhav Thackeray said: "Which is not new. Anyone who knows the history of Shiv Sena, ask Rane, ask Raj Thackeray who has seen old Shiv Sena. Everybody will say this man is like that. Uddhav Thackeray has a history of twisting words and telling lies. What's new about him? That man is like that. Today, Maharashtra is known for it. Sambhaji Raje had to think twice before believing him. Uddhav Thackeray it's not Devendra Fadnavis," said Nitesh Rane.