Reena of Farrukhabad was doing job in Prayagraj in the name of Anamika (revealed)
Another revelation in the ABP Ganga investigation is that only the documents of Anamika Shukla were used in Kasturba Gandhi Vidyalaya in Prayagraj.

Here Reena Singh of Farrukhabad district, not Anamika herself, was working.
Prayagraj, Mohammed Moin.
A shocking case has surfaced about Anamika Shukla, who has become an enigma for the Education Department in Uttar Pradesh.
ABP Ganga has got educational documents of Anamika Shukla.
These documents have become public for the first time and ABP Ganga Channel has been exclusive.
It is clear from these documents that 28-year-old Anamika has always been a promising student.
He has got first division marks in qualifying examination from tenth to B.Ed and TET.
Another revelation in the ABP Ganga investigation is that only the documents of Anamika Shukla were used in Kasturba Gandhi Vidyalaya in Prayagraj.
Here Reena Singh of Farrukhabad district, not Anamika herself, was working.
However, Reena, who worked in the name of Anamika in Prayagraj, was not paid a single penny here.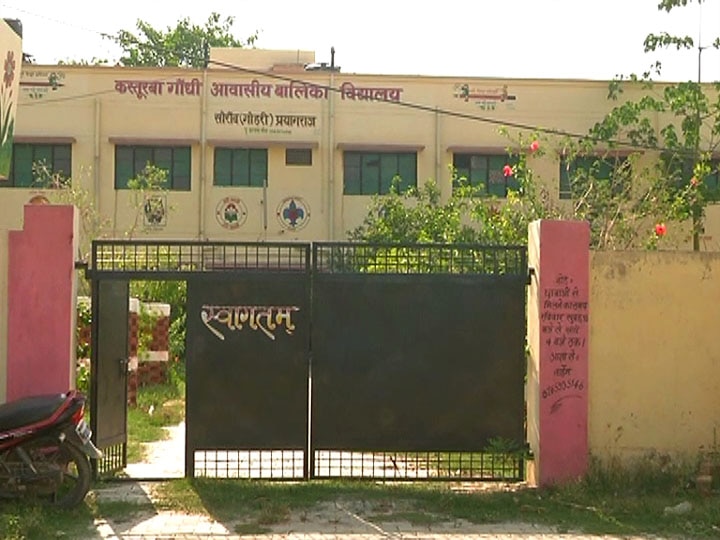 In our investigation, the Department of Education has shown great negligence in this matter.
Whatever educational documents were put in the name of Anamika during the verification, the photos in all of them were blurred.
Despite this, the appointment letter was issued to him without going through the history of the so-called Anamika, selected for the post of science teacher, whose department today has to bear the brunt.
The department has become so entangled in mathematics named Anamika that it is no longer going to answer it anywhere.
ABP Ganga also has an exclusive photo of Reena Singh, who works in the name of Anamika Shukla.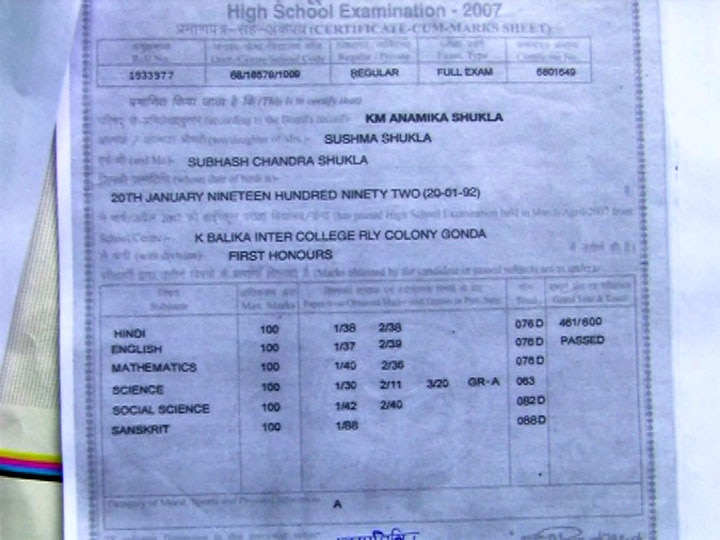 According to the exclusive copy of the educational documents of Anamika, ABP Ganga had passed the examination of class X and XII from the UP board.
According to the documents, Anamika was born on 20 January 1992.
She is a resident of Gonda and her father's name is Subhash Chandra Shukla and mother's name is Sushma Shukla.
According to the documents found, Anamika passed the examination of Tenth with First Division Honors in 2007.
She had studied from Balika Inter College located in Railway Colony of Gonda district and her roll number was 1933977.
In 5 out of 6 subjects of the tenth, he got more than 75 percent number of dictation.
Similarly, he passed the examination of class XII from the UP Board with SMJSIC in Gonda district.
This college is located in Paraspur area of ​​Gonda.
He also passed the examination of XII with First Division Honors.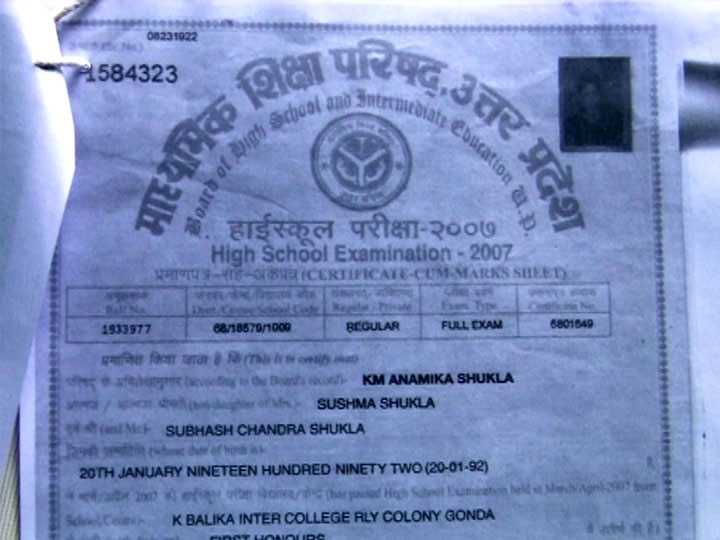 Anamika passed the B.Sc Examination First Division from Dr. Ram Manohar Lohia Awadh University in Faizabad district in the year 2012.
She studied B.Sc from Raghukul Mahila Vidyapeeth Degree College in Civil Lines area of ​​Gonda, associated with this university.
Anamika did her BEd in the year 2014 from Faizbaaz's Lohia Awadh University.
He got first division marks both in B.Ed's theory and practical.
She did her B.Ed from Adarsh ​​Kanya Postgraduate College in Jiapur Barua area of ​​Tanda Tehsil of Ambedkar Nagar district run by this university.
Anamika qualified the UP TET in the year 2015.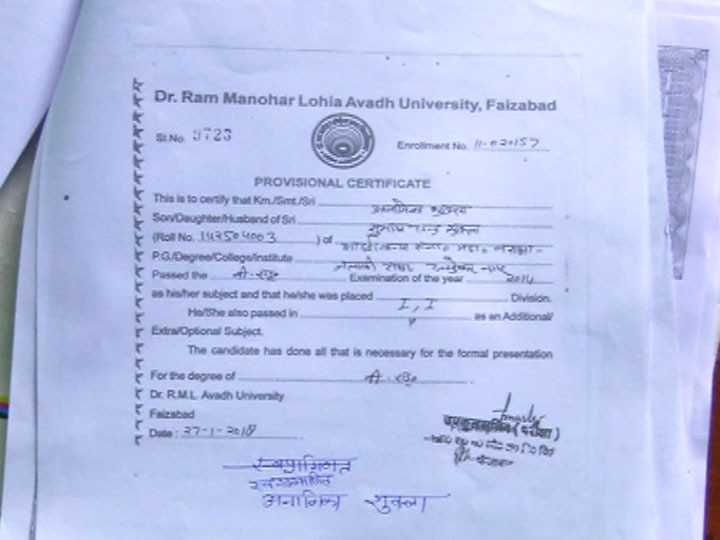 In Prayagraj, an appointment was made in Kasturba Balika Residential School in Soraon Tehsil of the district in the name of Anamika Shukla on November 29 in 2019.
The woman coming for appointment had told her name Anamika Shukla and had her documents verified.
Last week, when the fraud in Anamika's case began to be revealed, there was an investigation in Prayagraj as well.
It is clear in the investigation that an appointment has been made here in the name of Anamika.
A full-timer science teacher was appointed in Kasturba Vidyalaya of Soraon block in the name of Anamika.
The alleged Anamika lived in this residential girl school.
According to the contract, the alleged Anamika was to receive an allowance of Rs 22 per month in lieu of service.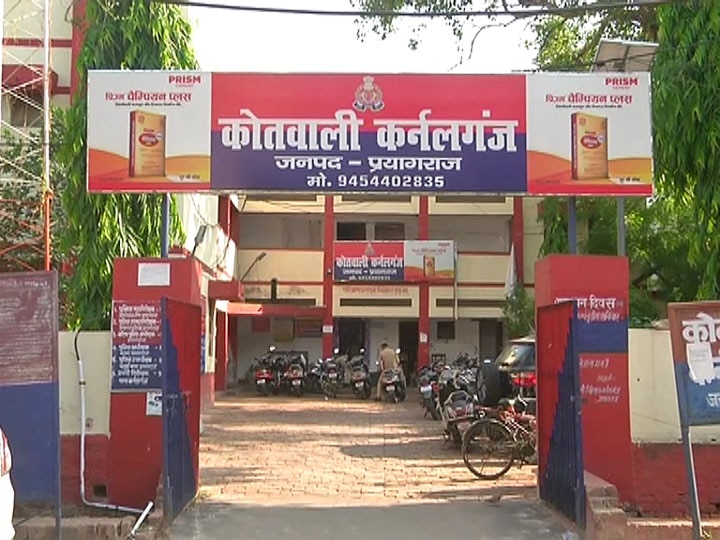 In the investigation conducted by the Education Department in Prayagraj, it became clear that Reena Singh, a resident of Kayamganj area of ​​Farrukhabad district, used to work here, not in her name.
Reena's father's name is Chandrabhan Singh.
Reena came here as an Anamika Shukla and during this time documents of Anamika were put up.
According to Arti Singh, the acting warden of Kasturba Vidyalaya, Anamika had shown the original documents along with the photo copy.
Due to no difference in the original certificate and mark sheet and his photo copy, he was given the appointment letter only on 29 November.
She was constantly staying here and also working.
Reena had applied all the educational certificates to Anamika, but had submitted her residence certificate.
However, in this, instead of Reena and her father Chandrabhan, Anamika Shukla and her father Subhash Shukla were written.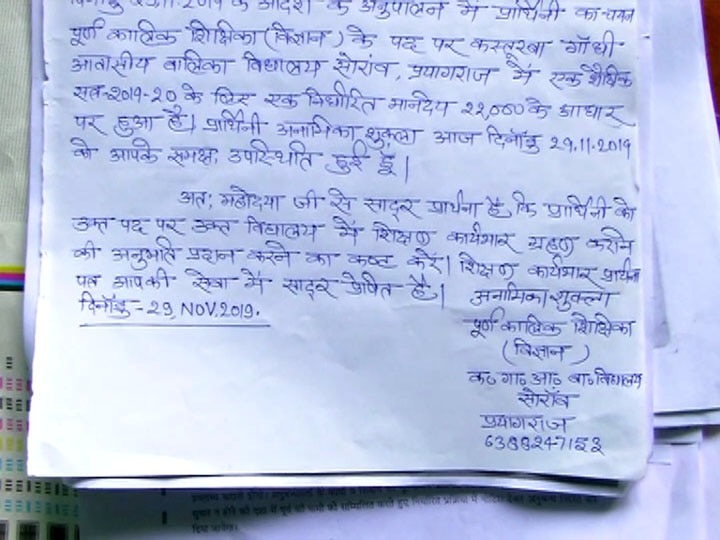 However, on the complaint of Basic Education Officer Sanjay Kushwaha of the district, Prayagraj police has filed a report of forgery after finding irregularities in the name of Anamika.
A case has been filed in the name of the alleged anamika in the Colonelganj Kotwali of the city.
Prayagraj's SSP Satyarth Anirudh Pankaj says that investigation has been started in this case and soon further action will be taken based on the investigation report.
According to BSA Sanjay Kushwaha, the process of sacking Anamika Shukla from Kasturba school in Prayagraj has been started.
It is just a matter of relief that the alleged Anamika Shukla alias Reena Singh was not given a single month's salary from Prayagraj.
He spent two months in opening the bank account and after that he was discharged in school due to lockdown.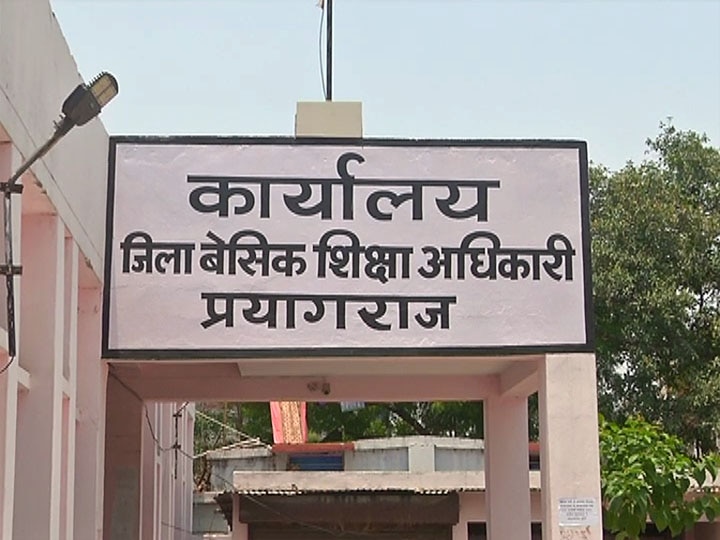 By the way, the Department of Education has shown great negligence in this matter.
Actually, there was negligence in document verification at all places.
A list of teachers and staff has been posted in Kasturba Vidyalaya in Prayagraj, there is no name of Anamika in it.
According to the school's warden Aarti Singh, this list is old and Anamika aka Reena joined after the listing.
However, the truth can be brought to the fore by locating the real ring finger on the basis of the documents of the handwritten Anamika Shukla with ABP Ganga.
Jammu Kashmir Rajouri Terrorist attack 4 dead 6 injured minorities…
Rajouri terrorist attack: Two armed terrorists fired indiscriminately around 7:00 p.m. this Sunday in the Upper Dangri area of ​​Rajouri, Kashmir, killing four people. Six others were injured in the attack. According to eyewitnesses, both terrorists attacked 3 minority houses near the temple in the Upper Dangri area, 8 km from Rajouri.
Eyewitnesses say that the terrorists allegedly attacked three houses here after seeing the Aadhaar card. Those killed in the attack have been identified as Pritam Sharma, his son Ashish Kumar, Deepak Kumar and Sheetal Kumar.
2 wounded were airlifted
Of the 6 people injured in this terrorist attack, 2 have been airlifted to Jammu. Several political and social organizations have called a bandh on Monday in Rajouri to protest against the attack. On the other hand, the security forces have carried out an exhaustive search operation in the area since Sunday night to arrest the terrorists.
condemned political parties
Where the Bharatiya Janata Party has resolved to eliminate terrorism from the Union Territory. At the same time, Congress called the incident "very serious" and exposed the government's claims to improve the security situation in the Union Territory.
Congressional goal of government
The Congress spokesman said: "Congress strongly condemns the terrorist attack in Rajouri. The incident is very serious and shocking. It exposes the government's claims to improve the security situation in the Union Territory." The spokesman further said that the government has failed to protect minorities, first in Kashmir and now in Jammu.
Read This Also: TDP Supremo Chandrababu Naidu Expressed Surprise At Roadshow Stampede, Announced Rs 5 Lakh To Families Of Dead
[ad_2]

Farmers can earn thousands of rupees by growing poplars
poplarsAgriculture is the economic backbone of the country. A large population is associated with this profession to carry out their daily lives. Wheat, corn, rice, oilseeds, legumes are the traditional crops. Farmers earn by planting them. Farmers also earn lakhs of rupees from horticultural crops. Experts say that in addition to traditional crops, farmers can earn thousands of rupees in profit. Today we are going to talk about such a crop. The cultivation of popular trees has increased in the country. People are demanding this not only in the country but in the world. The wood of this tree is sold at a high price in the market.
Popular needs that land
It is necessary to have a fertile soil for poplar plants. Planting trees in agriculture with organic elements improves agriculture. Poplar plants should not be planted in soil that is alkaline in nature. The pH value of the soil should be between 5.8 and 8.5. The temperature should be 18 to 20 degrees for planting. Popular trees grow well at a maximum temperature of 45 degrees and a minimum of 10 degrees. Tree development is best in a minimum temperature of 10 degrees and a maximum temperature of 45 degrees.
Plant a popular tree like this
Poplars have deep roots. Deep plowing is fine for this. Leaving water in the field after plowing. After getting out of the water, plow the field two or three times with a rotavator. After this, level the field with the machine. There must be a distance of 5 meters while preparing the line on the field. Transplant the plants in rows 5-6 meters apart into prepared 1-meter-deep holes. Popular trees are good from January to February. The period between February 15 and March 10 is best for transplanting poplars.
You can earn 10 lakh rupees on one hectare
Poplar saplings are not very expensive. But when it comes to selling, its price is very high. Experts say that the price of wood from popular trees is 700 to 800 rupees per quintal. 250 trees can be planted on one hectare. The average height of a tree is about 80 feet. One can earn up to Rs 8-10 lakh from a popular tree in 1 hectare. In the country, a large number of farmers from Bijnor of Uttar Pradesh are involved in the cultivation of folk. Popular countries and abroad can be shipped from here.
Disclaimer: Some of the information provided in the news is based on media reports. Brother farmers, before implementing any suggestion, consult the expert in question.
Also read this: foreigners are also crazy about this purple potato… Demand is increasing rapidly, you will be surprised to learn about the benefits.
[ad_2]

The first match of the series of 3 T20 Match between India and Sri Lanka with…
IND vs SL 1st T20 Playing XI & Pitch Report: 3 series of T20 matches will be played between India and Sri Lanka. After this T20 series, an ODI series will be played between the two teams. However, the first match of the 3 T20 series will be played on Tuesday at the Wankhede Stadium in Mumbai. The captain of the Indian team in this series will be the versatile Hardik Pandya. Earlier, the India team had to face defeat in the semi-final match of the T20 World Cup. Apart from this, Sri Lanka's performance in this tournament was also disappointing.
Will Wankhede's wicket be friendly?
The first T20 match of the series between India and Sri Lanka will be played at Wankhede Stadium in Mumbai. Speaking of the Wankhede wicket, it's a great wicket to bat at. After landing on this pitch, the ball comes to bat fast. Because of this, he is easy to hit. Apart from this though, there is help for the bowlers at the Wankhede wicket. Especially, fast bowlers get help at the wicket from Wankhede. Apart from this, fast bowlers get swing and good movement.
Possible XI of Team India for the first match of T20-
Ishan Kishan (week), Shubman Gill, Suryakumar Yadav, Deepak Hooda, Hardik Pandya (c), Sanju Samson, Washington Sundar, Harshal Patel, Yuzvendra Chahal, Arshdeep Singh and Umran Malik
Sri Lanka's possible XI for the first match of T20-
Pathum Nissanka, Kusal Mendis (week), Avishka Fernando, Charit Aslanka, Bhanuka Rajapaksa, Dasun Shanaka (c), Wanindu Hasaranga, Chamika Karunaratne, Mahesh Theekshana, Lahiru Kumara and Dilshan Madushanka
read this too-
Video: Brisbane Heat player caught shocking catch, no one including batsman believed, viral video

BCCI Reunion: Rohit Sharma Will Remain Captain Of India Team, Chetan Sharma May Return As Chief Selector

[ad_2]