Reena of Farrukhabad was doing job in Prayagraj in the name of Anamika (revealed)
Another revelation in the ABP Ganga investigation is that only the documents of Anamika Shukla were used in Kasturba Gandhi Vidyalaya in Prayagraj.

Here Reena Singh of Farrukhabad district, not Anamika herself, was working.
Prayagraj, Mohammed Moin.
A shocking case has surfaced about Anamika Shukla, who has become an enigma for the Education Department in Uttar Pradesh.
ABP Ganga has got educational documents of Anamika Shukla.
These documents have become public for the first time and ABP Ganga Channel has been exclusive.
It is clear from these documents that 28-year-old Anamika has always been a promising student.
He has got first division marks in qualifying examination from tenth to B.Ed and TET.
Another revelation in the ABP Ganga investigation is that only the documents of Anamika Shukla were used in Kasturba Gandhi Vidyalaya in Prayagraj.
Here Reena Singh of Farrukhabad district, not Anamika herself, was working.
However, Reena, who worked in the name of Anamika in Prayagraj, was not paid a single penny here.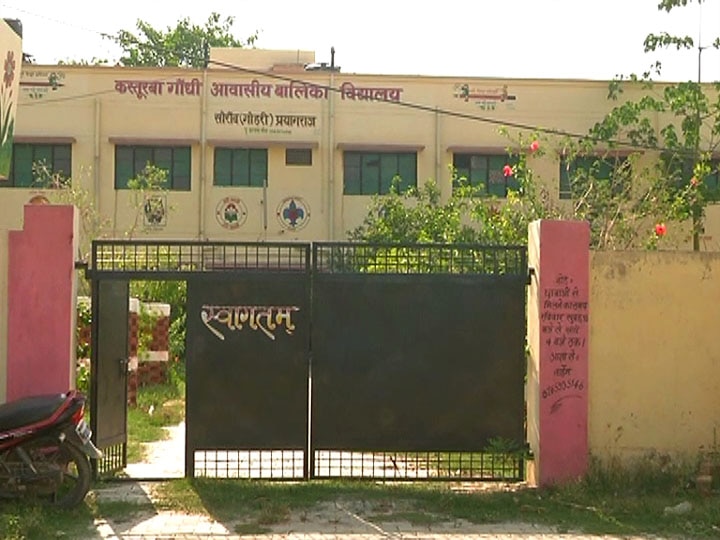 In our investigation, the Department of Education has shown great negligence in this matter.
Whatever educational documents were put in the name of Anamika during the verification, the photos in all of them were blurred.
Despite this, the appointment letter was issued to him without going through the history of the so-called Anamika, selected for the post of science teacher, whose department today has to bear the brunt.
The department has become so entangled in mathematics named Anamika that it is no longer going to answer it anywhere.
ABP Ganga also has an exclusive photo of Reena Singh, who works in the name of Anamika Shukla.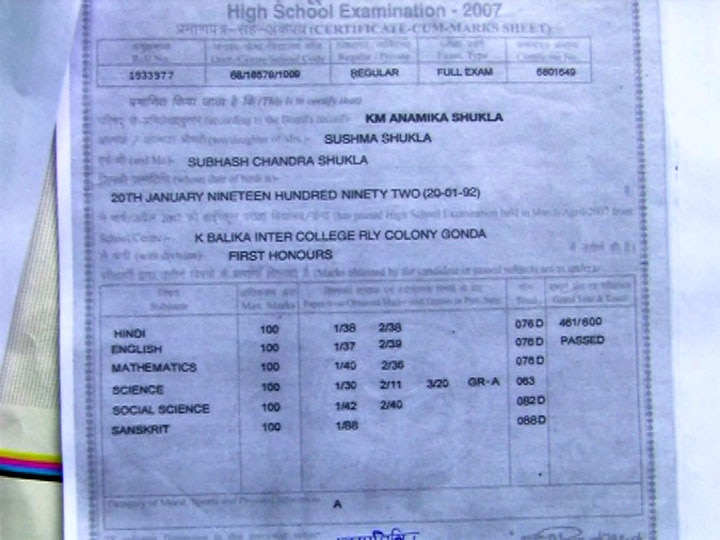 According to the exclusive copy of the educational documents of Anamika, ABP Ganga had passed the examination of class X and XII from the UP board.
According to the documents, Anamika was born on 20 January 1992.
She is a resident of Gonda and her father's name is Subhash Chandra Shukla and mother's name is Sushma Shukla.
According to the documents found, Anamika passed the examination of Tenth with First Division Honors in 2007.
She had studied from Balika Inter College located in Railway Colony of Gonda district and her roll number was 1933977.
In 5 out of 6 subjects of the tenth, he got more than 75 percent number of dictation.
Similarly, he passed the examination of class XII from the UP Board with SMJSIC in Gonda district.
This college is located in Paraspur area of ​​Gonda.
He also passed the examination of XII with First Division Honors.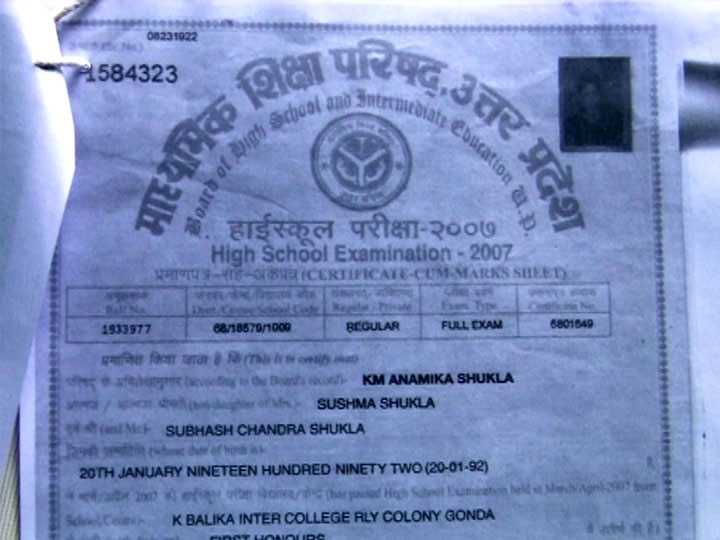 Anamika passed the B.Sc Examination First Division from Dr. Ram Manohar Lohia Awadh University in Faizabad district in the year 2012.
She studied B.Sc from Raghukul Mahila Vidyapeeth Degree College in Civil Lines area of ​​Gonda, associated with this university.
Anamika did her BEd in the year 2014 from Faizbaaz's Lohia Awadh University.
He got first division marks both in B.Ed's theory and practical.
She did her B.Ed from Adarsh ​​Kanya Postgraduate College in Jiapur Barua area of ​​Tanda Tehsil of Ambedkar Nagar district run by this university.
Anamika qualified the UP TET in the year 2015.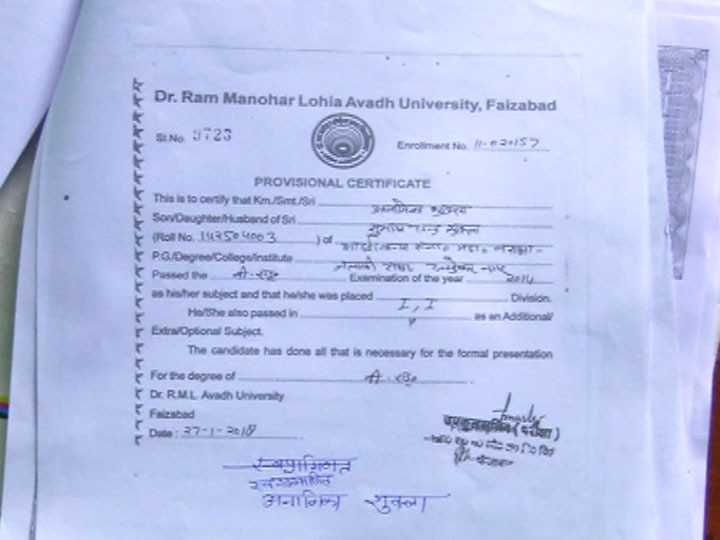 In Prayagraj, an appointment was made in Kasturba Balika Residential School in Soraon Tehsil of the district in the name of Anamika Shukla on November 29 in 2019.
The woman coming for appointment had told her name Anamika Shukla and had her documents verified.
Last week, when the fraud in Anamika's case began to be revealed, there was an investigation in Prayagraj as well.
It is clear in the investigation that an appointment has been made here in the name of Anamika.
A full-timer science teacher was appointed in Kasturba Vidyalaya of Soraon block in the name of Anamika.
The alleged Anamika lived in this residential girl school.
According to the contract, the alleged Anamika was to receive an allowance of Rs 22 per month in lieu of service.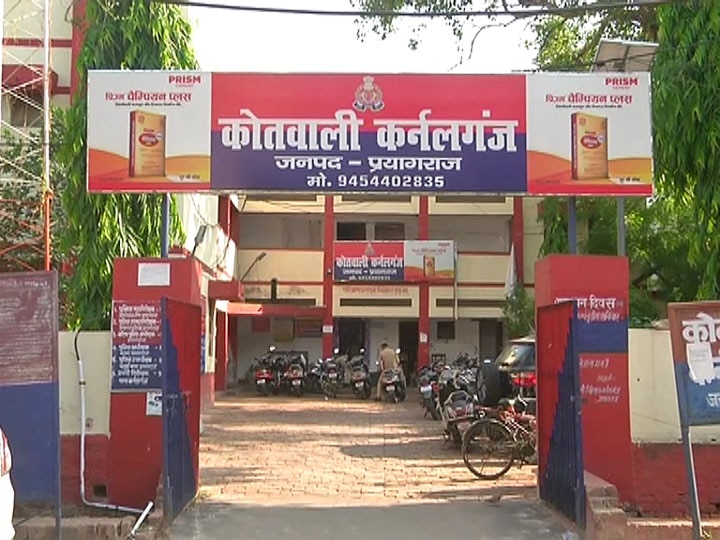 In the investigation conducted by the Education Department in Prayagraj, it became clear that Reena Singh, a resident of Kayamganj area of ​​Farrukhabad district, used to work here, not in her name.
Reena's father's name is Chandrabhan Singh.
Reena came here as an Anamika Shukla and during this time documents of Anamika were put up.
According to Arti Singh, the acting warden of Kasturba Vidyalaya, Anamika had shown the original documents along with the photo copy.
Due to no difference in the original certificate and mark sheet and his photo copy, he was given the appointment letter only on 29 November.
She was constantly staying here and also working.
Reena had applied all the educational certificates to Anamika, but had submitted her residence certificate.
However, in this, instead of Reena and her father Chandrabhan, Anamika Shukla and her father Subhash Shukla were written.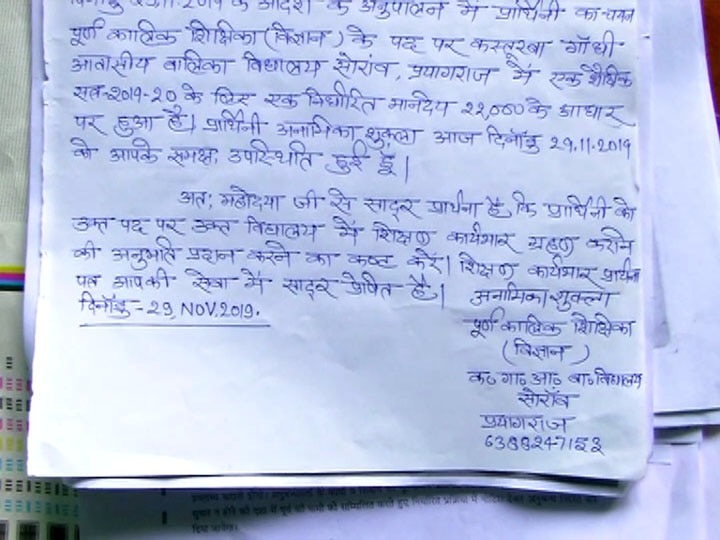 However, on the complaint of Basic Education Officer Sanjay Kushwaha of the district, Prayagraj police has filed a report of forgery after finding irregularities in the name of Anamika.
A case has been filed in the name of the alleged anamika in the Colonelganj Kotwali of the city.
Prayagraj's SSP Satyarth Anirudh Pankaj says that investigation has been started in this case and soon further action will be taken based on the investigation report.
According to BSA Sanjay Kushwaha, the process of sacking Anamika Shukla from Kasturba school in Prayagraj has been started.
It is just a matter of relief that the alleged Anamika Shukla alias Reena Singh was not given a single month's salary from Prayagraj.
He spent two months in opening the bank account and after that he was discharged in school due to lockdown.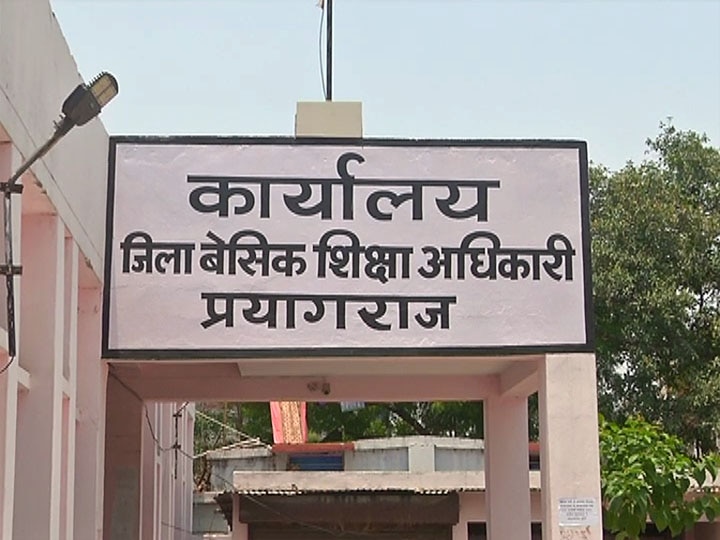 By the way, the Department of Education has shown great negligence in this matter.
Actually, there was negligence in document verification at all places.
A list of teachers and staff has been posted in Kasturba Vidyalaya in Prayagraj, there is no name of Anamika in it.
According to the school's warden Aarti Singh, this list is old and Anamika aka Reena joined after the listing.
However, the truth can be brought to the fore by locating the real ring finger on the basis of the documents of the handwritten Anamika Shukla with ABP Ganga.
Chhatrapati Gharana of Kolhapur is not in tension – Yuvraj Kumar…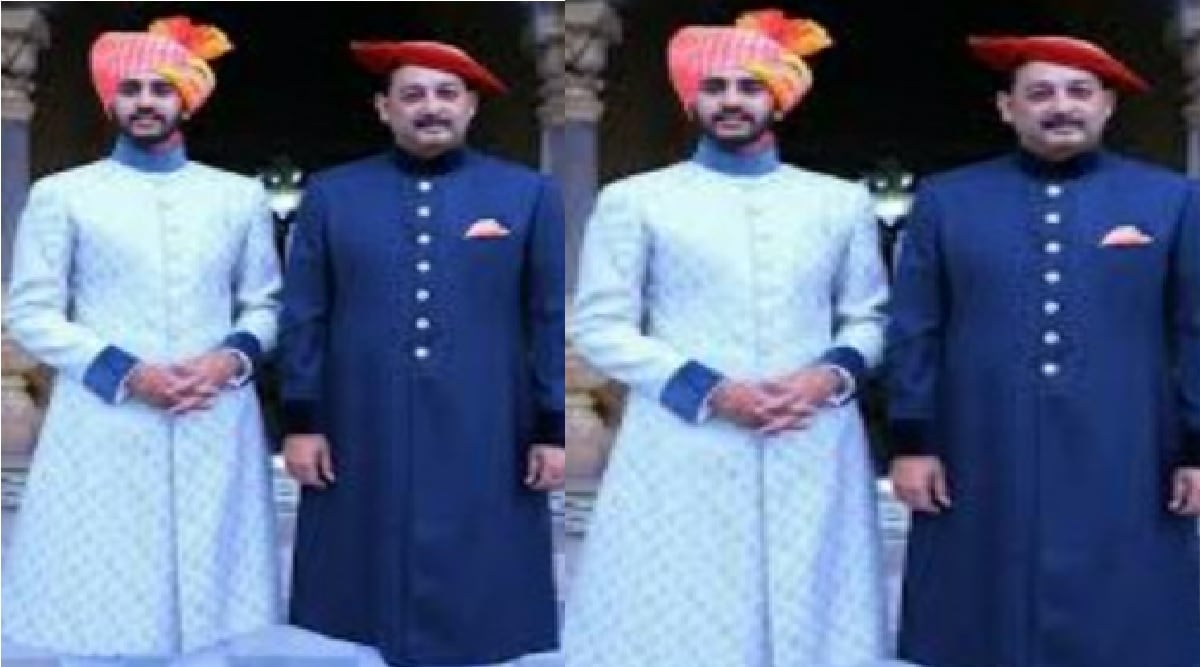 Sambhaji Raje Chhatrapati finds himself in a political dilemma after Shiv Sena announced his candidate for the sixth seat of the Rajya Sabha. All eyes are now on what role Sambhaji Raje will play in this election. Meanwhile, the Chhatrapati dynasty is not under any tension while these political developments are taking place. Yuvraj Kumar Shahaji Raje has said that if we are under stress, how can we do public works? Yuvraj Kumar Shahaji Raje had come to attend an event in Solapur on Thursday. This time he had an informal interaction with the media. He this time he made the comment above.
Read also >>> ST carrier commits suicide by strangulation due to economic difficulties; Incident at Pusad Depot Sanitation House
Asked if Chhatrapati Sambhaji Raje would get another chance in the Rajya Sabha, he said: "We are not in tension in this regard." Yesterday we were talking with my mother about what materials to buy at home. The daily life of Chhatrapati's family runs smoothly. There is no difference in our daily routine," said Yuvraj Kumar Shahaji Raje.
Also read >>> "Modi go to Masana", Deepali Syed angered by Chandrakant Patil's 'that' statement!
Speaking further, he also mentioned that there is unrest in many congregations around and that they love the Chhatrapati family. Also, it is not appropriate to have stress in life while participating in politics. It doesn't even fit. If we are not happy, we will not be able to do the work of ordinary people," said Yuvraj Kumar Shahaji Raje.
Also read >>> How do you know in advance that ED will take action? The answer was given by Kirit Somaiya himself; Saying
Meanwhile, after the Shiv Sena announced his candidate for the sixth seat of the Rajya Sabha, all eyes are on the role that Sambhaji Raje Chhatrapati will play. He has not yet assumed any role. But while all this was happening, he uploaded a photo to social networks and said that he would be committed to people. He also said through social media that he wants to create self-government in the eyes of Chhatrapati Shivaji Maharaj.
Suicide by strangulation of ST carrier due to economic hardship; Pusad Reservoir…
Yavatmal: A driver committed suicide by hanging himself in the toilet of ST Depot in Pusad. Ashok Pundalikrao Doiphode (51) Ra. The name of the deceased is Parvatinagar, Pusad. The incident came to light on Thursday night.
Ashok Doiphode, who works as a transporter at the Pusad depot, has been in financial straits for the past few days. It was discovered that he committed suicide by hanging due to depression in financial difficulties. ST workers have been on strike for the last five or six months. As a result, he was discouraged from going to work due to financial difficulties, his colleagues said. He is survived by his wife, two sons and a daughter. Pusad city police sent the body to the sub-district hospital for autopsy.
lawyers boycott work in amravati demand action against police…
Amravati: The District Defenders Association has gone on indefinite strike to protest against the beating of a lawyer by Gadgenegar police on trumped up charges. The strike will continue until action is taken against Inspector Asaram Chormale. Members have taken action.
Court proceedings were affected by the closing of the lawyers on Thursday. President of the Association of Defenders of the District Adv. Shoaib Khan along with other officers and members met with Police Commissioner Dr. Aarti Singh submitted a statement demanding action against the guilty officer. As long as no action is taken against Police Inspector Asaram Chormale, the indefinite strike of the District Defenders Association will continue. Between 500 and 600 lawyers have joined the strike, which has had a great impact on work, with no case being heard in court today. Adv. Gadgenegar police filed bogus charges against Ankush Tagade. They were severely beaten. He was handcuffed and put on trial after being treated as a notorious defendant. All of this is unfair. Adv. "We want the charges against Tagade to be dropped and action to be taken against Inspector Chormale," said Shoaib Khan, president of the Bar Association. If no action is taken, there will be a Maharashtra-wide strike, he added.