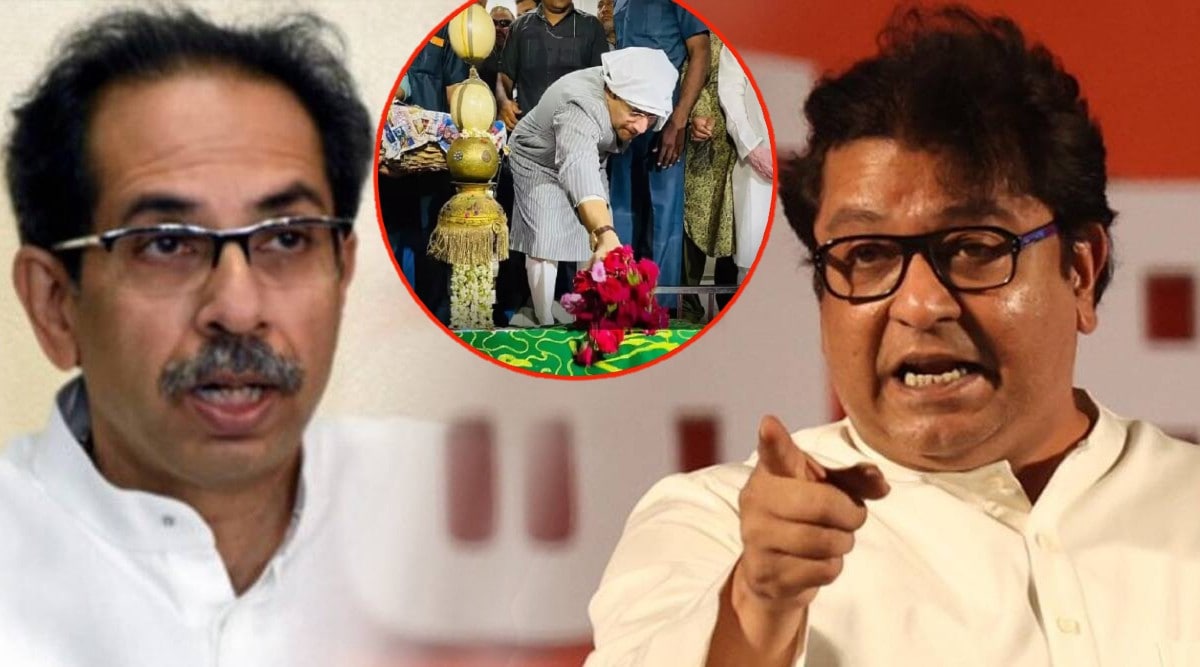 MNS demands to demolish Aurangzeb's grave: MIM leader Akbaruddin Owaisi, MP Imtiaz Jalil, Waris Pathan together with activists visited Aurangzeb's grave in Khultabad. Therefore, a new controversy has arisen. From the ruling Shiv Sena to the opposition BJP, all major parties have openly expressed their discontent over this issue. Meanwhile, Raj Thackeray's Maharashtra Navnirman Sena has demanded that Aurangzeb's grave be demolished. MNS has made this claim referring to an old interview of Shiv Sena founder and head of Shiv Sena Balasaheb Thackeray, a major constituent party of the ruling Mahavikas Aghadi in the state.
Exactly read >> "Those who have been kicked out of the house and those who deserve…"; Akbaruddin Owaisi takes aim at Raj Thackeray
What exactly did MNS say?
Maharashtra Navnirman Sena spokesman Gajanan Kale, introducing the party's position, referred to the Shiv Sena on the issue of Hindutva and demanded that the tomb be demolished. In an interview given in 'Saamana' on December 18, 2000, Balasaheb says: "This tomb of Aurangzeb in Sambhajinagar should become a friend of the earth. It should not be rebuilt." Will this Shiv Sena government listen to Reverend Balasaheb? Is this tomb going to be a landlord?" Such questions were raised by MNS.
Is there a tomb for this?
Speaking further, MNS has avoided directly mentioning Owaisi as to whether this tomb has been set up to bow down to the likes of Akbaruddin Owaisi. What is the need of the tomb of Aurangzeb in Maharashtra of these Shivarayas? This descendant of Nizam will come here and bow before this tomb. Is this a tomb for this?" Was the question Kale posed.
Will you listen to this?
While taking aim at Shiv Sena, MNS also asked if he would listen to Balasaheb's statement. "We have reversed the name of Sambhaji Nagar. The street prayers mentioned by Balasaheb have been reversed from the position of the bells. At least after hearing this from Balasaheb, are you going to break this tomb of Shivaraya in Maharashtra? This is our exact question We challenge pro-Hindu activists to come forward now," Kale said.
Explanation given by Khalil
MP Jalil made the remarks after criticism of MIM leaders bowing at Aurangzeb's grave in Khultabad. Jalil said, in fact, there are many dargahs in Khultabad. Therefore it is not possible to take darshan from one and ignore the other. Therefore, it should not be interpreted differently, he said. Khalil wore a saffron-colored scarf as he prostrated himself in front of the grave. Speaking of this, he said: "Saffron, green, blue are all my colors."
Achieved by Khaire
Old MP Khalil films were also circulating on social media, questioning when we had bowed to Aurangzeb's grave. Speaking on the occasion, former Shiv Sena MP Chandrakant Khaire congratulated the school's builders but said the act of bowing in front of Aurangzeb's grave was divisive.