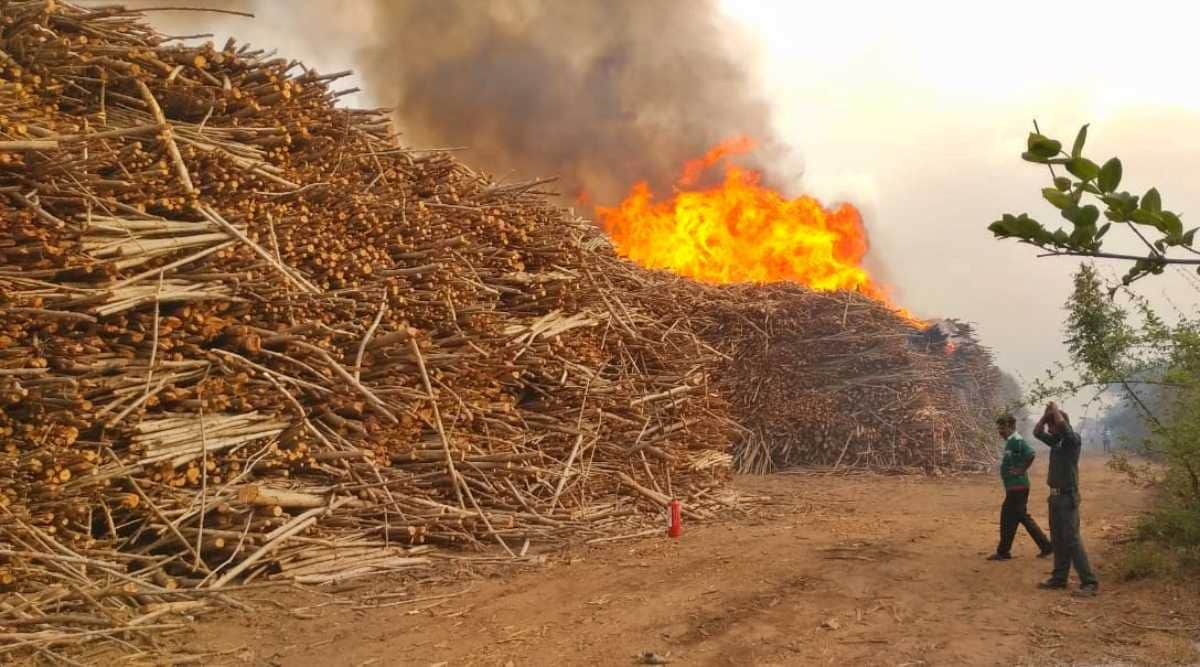 Chandrapur: A huge fire broke out at the Ballarpur Paper Mill bamboo depot in Kalmana on Kothari Marg on Sunday (May 22) around 2pm. The fire destroyed millions of rupees worth of bamboo and eucalyptus wood stored in the warehouse. Meanwhile, the cause of the fire could not be determined. There was a petrol pump near the bamboo depot and efforts were being made to prevent the flames from reaching it.
Ballarpur Paper Mill has a warehouse for storing Bamboo, Eucalyptus and Soapbabul raw materials on the Ballarpur-Allapalli highway at Kalmana in Ballarpur taluka. The raw material stored in this warehouse is shipped to the Ballarpur Paper Mill. A flash fire broke out on Sunday (May 22) between 2 and 3 on a hot summer afternoon. The fire took on a strident form. It is understood that millions of rupees worth of bamboo and eucalyptus products were burned there.
Ballarpur Police were informed as soon as the warehouse caught fire. A team of firefighters rushed to the scene and tried to douse the flames. However, due to strong winds, the fire spread and the entire warehouse was engulfed in flames. Additional firefighters were then called. Five to six fire trucks arrived from Rajura, Chandrapur, Gadchandur, Naranda, Mul and tried to control the fire. By then it was too late and the warehouse was on fire.
Vanava had been furious since morning in the Lavari Kalmana Bita forest in the Ballarpur forest area. The forest must have reached the burning warehouse. His cloud must have reached the reservoir. That is why the deposit may have caught fire, it is speculated. Ballarpur Police, paper mill employees and officers were present at the scene.
The fire was not controlled until further notice. As there was a warehouse on the Ballarpu-Kothari National Highway and the fire was burning, the fire was burning. The entire area was covered in smoke as smoke billowed out. Highway traffic stopped. It is unknown at this time what he will do after leaving office.
Also read: Pimpri Chinchwad: fire at Savitribai Phule hospital, panic among citizens
It should be noted that this bamboo deposit was burned down by Naxals many years ago. The bamboo yard burned down in a similar way a few years ago. So there was a similar loss. This deposit had a large amount of dry bamboo. That is why it is said that the fire started.