LIVE ✔️ Coronavirus in India Live Updates: Supreme Court asked to create a common pass for movement in Delhi-NCR
Unlock 1.0 has begun to bring the country back on track after four phases of lockdown. But cases of infection are increasing steadily. According to data released by the Union Health and Family Welfare Ministry, 9,304 new cases have been reported in the last 24 hours and 260 people have died. After this, the total number of corona positive cases across the country has risen to 2,16,919, of which 1,06,737 are active cases, 1,04,107 people have been cured or discharged from hospital and 6,075 died so far. Has been done. At the same time, today 90 new cases have been registered in Odisha. Read here all the updates related to Corona in India…
The Supreme Court said that a pass should be issued which has recognition in Haryana, UP and Delhi.
The Supreme Court has asked to take steps in this regard within a week.
The Supreme Court asked the Union of India (UOI) to convene a meeting of representatives / officials of Uttar Pradesh, Delhi and Haryana and try to form a common policy for the movement of passengers between the three states in the Delhi-NCR region.
The Supreme Court has asked for a common pass for movement in Delhi-NCR.

The Prime Minister of Australia said that I commend India's leadership for taking the post of Chairman of the Executive Board of WHO.
This is an important time to chair the Board, I do not doubt that the leadership of India will be important in dealing with difficult problems globally especially in the health sector.
Scott Morrison said that we share an ocean and we share responsibility for that ocean, for its health, welfare and safety.
Regarding the issues that we are building in our maritime sector, I think there is a forum for many other things between our countries.
Scott Morrison said that we are committed to an open, inclusive and prosperous Indo-Pacific and India's role in that region, our region will be important in the coming years.
Australian Prime Minister Scott Morrison said that during such a difficult time, you have played a stabilizing, constructive and positive role not only within India but in the entire G20, Indo-Pacific region. I thank you for this.
Modi said that I am especially grateful for the way you have taken care of the Indian community in Australia, and especially the Indian students, during this difficult time.
PM Modi said that our government has decided to see this corona crisis as an opportunity.
In India, a process of comprehensive reforms has been initiated in almost all areas.
Very soon the result will be seen at the ground level.
Prime Minister Narendra Modi said that on behalf of all India, I express my condolences to the Corona affected people in Australia.
Modi said that we have to work together to get the world out of the corona epidemic soon.
Modi said that India saw the disaster as an opportunity.
Negotiations between PM Modi and PM of Australia begin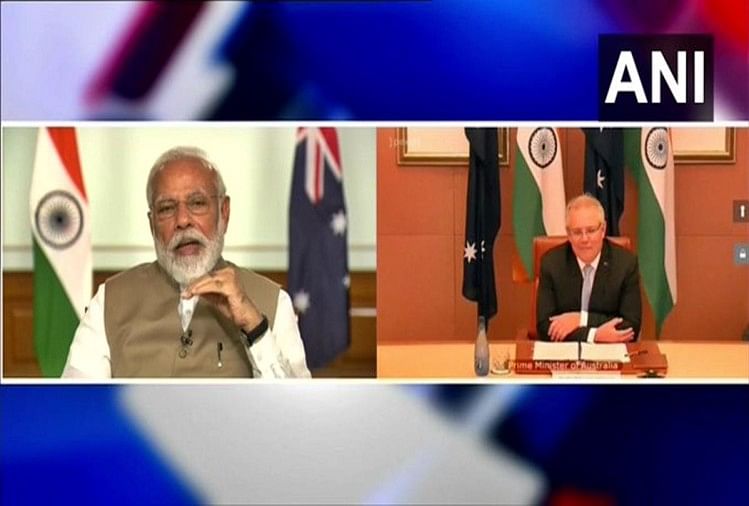 The 'India-Australia Virtual Summit' is being held for the first time between Prime Minister Narendra Modi and Australian Prime Minister Scott Morrison.
Negotiations have begun between Prime Minister Narendra Modi and Australia's Prime Minister Scott Morrison.
90 new cases were reported in Odisha
According to the Information and Public Relations Department, Odisha, 90 new cases of Corona positive have been registered.
After this, the number of infected patients in the state has increased to 2,478.
Of which 1,053 are active cases.
WHO resumes testing of hydroxychloroquine
CSIR Director General Shekhar C Mande said that we are happy that the WHO has resumed testing of hydroxychloroquine.
I strongly believe that the WHO decision was taken in a hurry.
It was a shock reaction.
They should have analyzed the data on their own before the trial was temporarily suspended.
Rahul Gandhi said that we have migrant laborers here but we kept looking towards the west.
Why don't we see our own difficulties?
On this, the MD of Bajaj Auto said that if you go back in March, what would you think three months ago?
During the conversation, Bajaj said that if someone is not wearing a mask, then he is being insulted on the street which is wrong.
Today, governments in the world are directly helping the common people.
In India, money was not given in the hands of common people by the government.
Rahul Bajaj said that people feel that this disease is like cancer.
There is a need to change people's thinking and get on track.
This may take a long time.
Lockdown is quite difficult from the perspective of the common man.
Nowhere has a lockdown like India happened.
Rahul Gandhi said that there are some people who can deal with it, but there are crores of workers who have faced difficulties.
In response, Bajaj said that India looked west.
It has done a better job in Eastern countries.
Eastern temperatures, despite all the difficulties, including medical, have worked well.
Rahul Gandhi talks to industrialist Rajiv Bajaj about the Corona crisis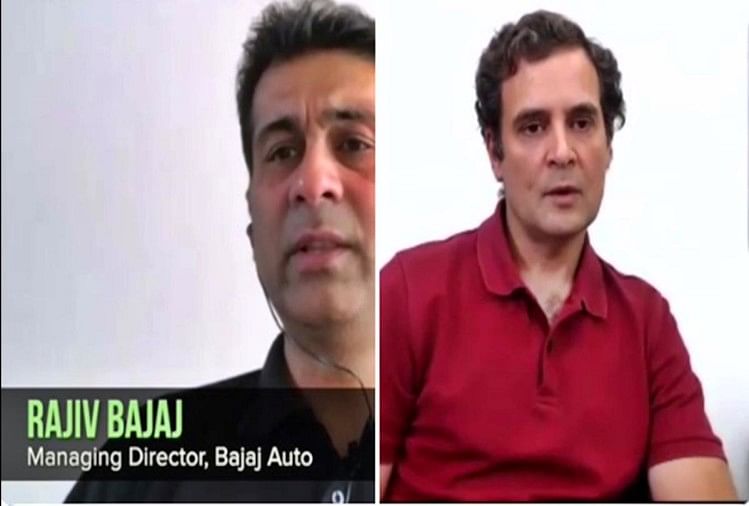 Congress leader Rahul Gandhi spoke to Bajaj Auto managing director Rajiv Bajaj through video conferencing about the Corona crisis.
Some districts of Odisha complete shutdown on weekends
In view of the spread of Corona virus, the Odisha government has decided to complete the shutdown on Saturday and Sunday in June in some districts.

During this time only emergency and essential services will be exempted.
The districts where this order will be applicable include Ganjam, Puri, Nayagarh, Khorda, Cuttack, Jagatsinghpur, Kendrapur, Jajpur, Bhadrak, Balasore and Balangir.
Number of infected in Indore crosses 3,600, 145 patients dead so far
Indore, one of the worst affected districts of Kovid-19 in the country, has received 36 new cases of the epidemic during the last 24 hours.
With this, the total number of infected in the district has increased from 3,597 to 3,633.
An official of the Health Department gave this information today.
CM Yogi holds meeting with 'Kovid-19 Management Team-11'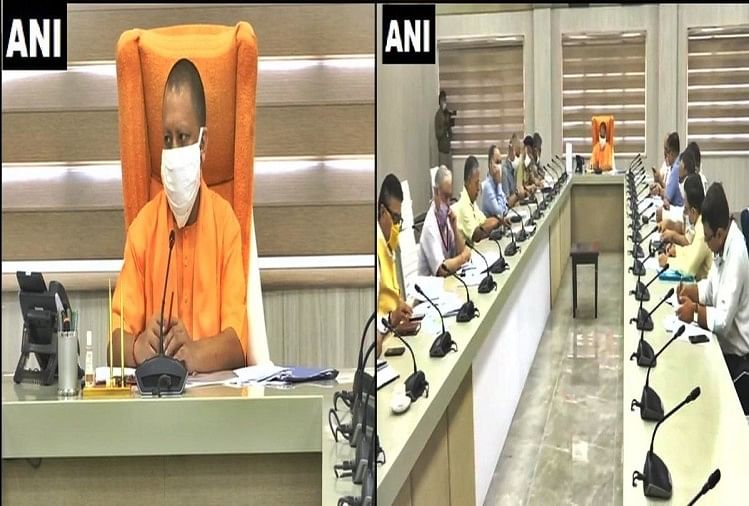 Uttar Pradesh Chief Minister Yogi Adityanath held a meeting with 'Kovid-19 Management Team-11' to discuss the situation in Corona in Lucknow.
Chief Minister Yogi Adityanath has authorized the state health department to use his government aircraft to bring necessary equipment from other states to Uttar Pradesh amid the outbreak of Corona epidemic.
So far, more than 42 lakh 42 thousand samples have been tested across the country.
The Indian Council of Medical Research (ICMR) reported that a total of 42,42,718 samples have been tested so far, of which 1,39,485 samples have been tested in the last 24 hours.
Number of infected patients in the country is close to two lakh 17 thousand
According to data released by the Union Ministry of Health and Family Welfare, 9,304 new cases have been reported in the last 24 hours and 260 people have died.
After this, the total number of corona positive cases across the country has increased to 2,16,919, of which 1,06,737 are active cases, 1,04,107 people have been cured or discharged from hospital and 6,075 died so far. Has been done.
SFI filed a petition in the Supreme Court
The Students' Federation of India (SFI) has filed a petition in the Supreme Court raising the issue of problems and miseries faced by migrant laborers during the Corona crisis and sought intervention.
According to sources, a senior defense ministry official has been found to be Corona positive.
After the senior officer was found to be Corona positive, the officials of the Ministry of Defense conducted a large number of tests.
All the people who came in contact with the senior officer have quarantined themselves.
When the bus service resumed in Delhi, people reached the Anand Vihar bus stand to go to their original place.
A bus conductor told that we first sanitize everyone and then do a thermal screening of everyone, whichever comes to red, we do not sit in the bus.
Policemen checking vehicles at Delhi-Gurugram border. Delhi Chief Minister Arvind Kejriwal on Monday announced that the Delhi border will remain sealed for the next one week. During this time only essential services will be exempted.
Delhi: People arrive for shopping in Ghazipur Mandi
People arrived for shopping in Ghazipur Fruit and Vegetable Market on Thursday morning.
Delhi: Railway officer and his wife-daughter Corona positive
Corona investigation report of a railway official and his wife and daughter in Delhi has come positive.
The officer had appeared in the office on June 1.
The thread
Chief Minister Nitish Kumar objected to the existence of migrants
Bihar Chief Minister Nitish Kumar has objected to laborers being migrant laborers.
He said that the entire country is one, those going out of the country are called migrants, then why are the laborers traveling from one state to another state being called migrants.
His government is arranging for all the people coming from outside states.
Karnataka: loss to gym owners
Gym owners and trainers in Bangalore are suffering losses due to lockdown.
Jayaram, a gym owner, said that we are not able to pay salaries to our employees.
Record 396 cases, 10 deaths in Bengal in 24 hours
During the last twenty four hours in West Bengal, 396 new patients have come up, which is a record so far. Earlier, on May 31, the highest number of 371 cases were reported. During this period, the death toll has reached 263 with the death of ten people. It is given in the bulletin issued by the Department of Health.
Many Health Ministry officials are Corona positive
In the circular issued by the Ministry of Health, it has been said that many officials of the Ministry have been found Corona positive.
As such, a list has been issued as a precautionary measure.
It states that henceforth the meetings will be through video conference, so as to prevent the spread of corona.
Tamil Nadu: A meeting to open religious places
, Chief Secretary K Shanmugam and DGP JK Tripathi held a meeting on June 8 to open religious places.
Representatives of various religions attended it.
Supreme Court asked to create a common pass for movement in Delhi-NCR
IIT Bhubaneswar has given the students the option of semester examination.
IIT Bhubaneswar has given two options to the students going to graduate degree in view of the lockdown. Students residing outside Bhubaneswar can take the exam in online mode under the option before 24 June. Under the second option, institutes can also sit for the semester examination to be held on campus in the first week of July / August.