While doing it in Mahasinema..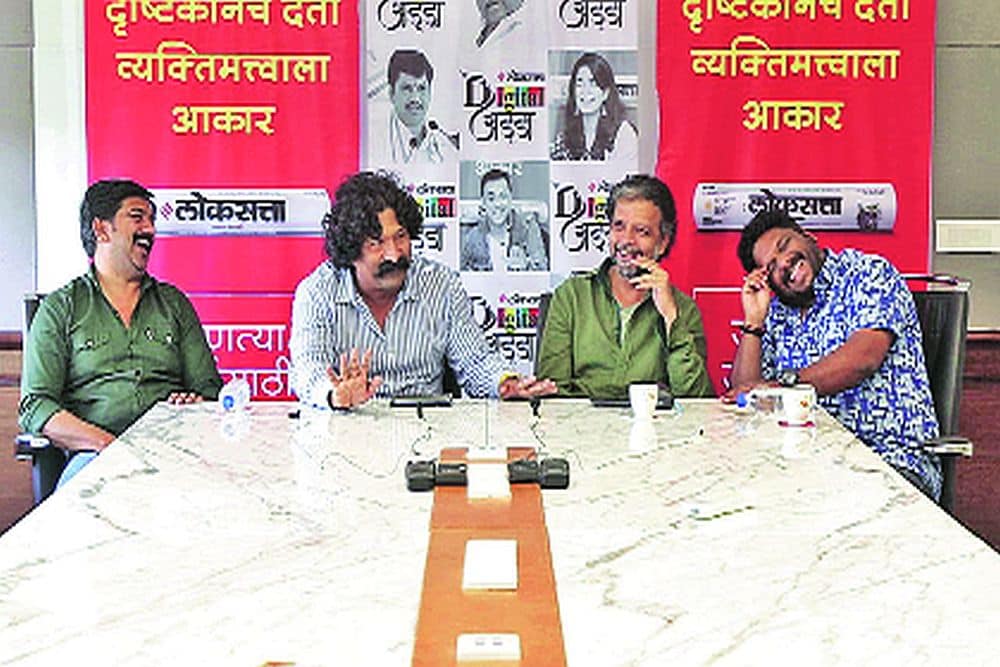 The great historical film 'Sarsenapati Hambirrao', directed by Praveen Tarde and starring the catchphrase 'Mahasitil in Marathi', will be screened at 27 Melas across the state. Praveen Tarde and cinematographer Mahesh Limaye talked freely with Loksatta about the preparations for the historical films, the cost of production and the challenges.
In 'Sarsenapati Hambirrao', Praveen Tarde has faced both the challenge of directing and that of starring. It was natural that both Chhatrapati Shivaji Maharaj and Chhatrapati Sambhaji Maharaj felt oppressed while playing the role of Hambirrao Mohite. It doesn't just look like that; His work, his skill, everything had to be painted with the same passion. Bodybuilding was a big part of this movie. So I worked hard to achieve it, but I also spent a lot of time both riding and training and fencing. I had to sit on a horse that flew through the air with all four legs, plus a seven and a half kilo sword. I wanted to carry two swords in those two hands, for which I needed physical strength and a lot of training, director Praveen Tarde said. .
I still want the hero in the window.
The producer of this film, Sandeep Mohite Patil, had set out to make a film about Hambirrao Mohite. He had seen the movie 'Mulshi Pattern' that I directed. They came to me because they wanted to make a great movie. Initially, we auditioned for the role of Hambir Rao. However, some of them did not have the physique required for such a role, but did not know the mathematics of acting. The opposite is true for others. We have many actors in the theater, they love to act. But when he acts in front of the camera and especially in historical roles, the actor has to prepare in a very different way. When you sit on a horse, the horse does not move automatically. He has to run. For that you have to learn riding techniques. You can't act part-time in a historical movie. After seeing all this, I decided to play the role of Hambir Rao myself. He said that for the last 15 years, I have been looking for a historical context for the movie, Exercise-Training and writing the story. Appearance is still important to us. It is decided by looking at the artist's face whether he is a hero or not. I'm not that kind of hero, but with a lot of preparation, I've mastered the art of directing and acting on this film, says Praveen.
Preparation is very important
I emphasize that 'Sarsenapati Hambirrao' is a very expensive film in Marathi. We had called in Hindi technicians for this film. It has already been decided to hire the same technicians who worked on historical films like 'Bajirao Mastani'. He also said it should be a great historical film in Marathi, in Hindi, it should look great on the screen, there should be no technical aspect missing, he said. The famous cinematographer Mahesh Limaye has done the photography for 'Sarsenapati Hambirrao'. Marathi youth like Mahesh Limaye are making historical movies like 'Bajirao Mastani' in Hindi, so why don't we call them Marathi? Tantra has a price and whether it is Bhansali or a Marathi director… they have to pay the same price. In this movie you will not see the looting battle. In the movie 'Bajirao Mastani', Ranveer Singh is seen fighting with a big jump. We have used the same horse that actor Ajay Devgn used in 'Tanaji'. These horses used in Hindi movies used to come and go in air-conditioned carts for filming, so their cost is huge. He also gave a little example saying that if you want to cost while making a historical film, you have to prepare on very different levels. If a war incident is portrayed to the artist, behind which bursting and bursting cannonballs are seen, then both the artist's movements and that explosion must be corrected at the same time. Even if the artist misses that moment, there will be an explosion behind him. Making an explosion is a big expense. It costs an artist as much as his daily wage to make an explosion. If the artist has to return the scene, the financial burden on the producer increases and then the math goes wrong. So the actors while making historical films. The directors, the technicians cannot make mistakes, they have to prepare and practice.
Emphasis on personal preparation even in Hindi-South
You often see the artists chatting on set in their spare time. I have worked on the set in Hindi, I have seen it. What is there or s. S. When I went to Hyderabad to meet Rajamouli, I had the opportunity to experience filming on set for three or four days. Nowhere on set do the actors appear to be conversing with each other. Everyone is involved in the study or preparation of the role for her. Artists all over the world seem to attach great importance to study and personal preparation.
Experiment with artist selection
A lot of thought has been given to the cast of 'Sarsenapati Hambirrao' and some experiments have been done, Praveen said. Actor Gashmir Mahajani has played the roles of Shivaji Maharaj and Sambhaji Maharaj in this film. We have many misconceptions, one of which is that Shivaji Maharaj was short in stature. They used to look small in stature, but in front of whom… it is natural that in front of Afzal Khan their height is less. So it cannot be said that he was short in stature. I deliberately chose Gashmir here. I noticed the height of him, the shape of the body, the body language. He does great driving. Having worked with him before, he knew exactly how to handle this role. Another thing that he consciously did was that Sambhaji Maharaj was part of Shivaji Maharaj. So I took these two roles from Kashmir. Soyarabai's role was also important in this film, as it was in the past. The relationship between Shivaji Maharaj and Soyarabai was important. This role is played by actress Shruti Marathe. Until now we have seen Shruti in a sweet and beautiful role, so I did this experiment by giving her a different role from Soyarabai. I chose actor Rakesh Bapat for the role of Sarja Khan who killed Hambir Rao. He is also famous in Hindi-Marathi as a handsome and delicate-bodied hero. So this time he was given a different role, he said.
Three days for an eight second scene.
Historical film photography is a different challenge, said cinematographer Mahesh Limaye. Where is the historical film going to be shot, how do you go beyond what the writer and director has written and bring it to the audience through the scenes? The cinematographer has to think about this. It requires constant discussion and study. Art directors and costume designers also play important roles in historical films. What kind of costume will it be? You have to know about the historical buildings, the traditional objects, what their colors will be, the colors of the clothes. When installing the frame taking into account the time, you have to think that nothing will come from today. Which means it's also about to be the craziest time of the year. At that time there were no electric lights, whatever light there was in the atmosphere was a torch or the flickering light of oil lamps in the atmosphere. So even if you watch the scenes shot at night, you will see on the screen the natural light of the moon and how the light of this torch or lamp combines to illuminate the environment, the shoot recalled. A scene in a movie is eight seconds long, but if it's shot well, its memory will linger for the next two hundred years, so we've worked hard to make this movie more effective, Praveen Tarde said. Explaining the nature of the effort, Limaye told the story of how he tried three days in a row to capture the eight-second scene. The film shows the sun rising from a mountain. He recalled the scene, which was shot on a mountain by Praveen Afternoon, with a special lens from a distance of seven kilometers and diligent setup every morning for three days. Praveen Tarde, who insisted that such imaginative and hard-working scenes should be seen in Marathi films, said that 'Sarsenapati Hambirrao' would be a landmark in Marathi historical films due to all these efforts.
2022-05-21 18:35:00
Bhojpuri Stars Sketchy Love Stories. Khesari Lal | Pawan Singh | A…
Bhojpuri industry is very popular among the people nowadays. The Bhojpuri industry is second only to Bollywood in terms of viewership. Fans are also very fond of Bhojpuri artists and are also very eager to know everything related to them, be it their movies, songs or their love life. Many couples in the Bhojpuri industry were hugely successful on screen but their love stories could not find a destiny in real life. In this video, find out who those couples who broke up are.
Khesari Lal Table or Pawan Singh's Lal Ghaghra? What songs broke…
The year 2022 was very special for Bhojpuri cinema and especially for Bhojpuri music. Our Bhojpuri songs broke many records on YouTube, even leaving Bollywood and South Cinema far behind. So today we brought top 10 Bhojpuri songs of the year 2022, which you can listen to in the new year celebration or anytime, it will always make you dance.
OTT vs Theater | Is it fun to watch a movie at home or in a movie theater? , ENT Li…
It is no longer the time when movies were released in theaters before, people had no choice but this. Movie theaters were closed for two years due to the Covid 19 pandemic, so many filmmakers turned to OTT. Many viewers also began to wait for movies to come out on OTT instead of watching movies in theaters after Corona. Faced with such a situation, the question often arises as to whether the theater or the OTT platform is better. In this battle of Theaters vs OTT we got to know the opinion of the people in a fun way.