VIDEO: "Stop Rape On Us", naked woman walks on the red carpet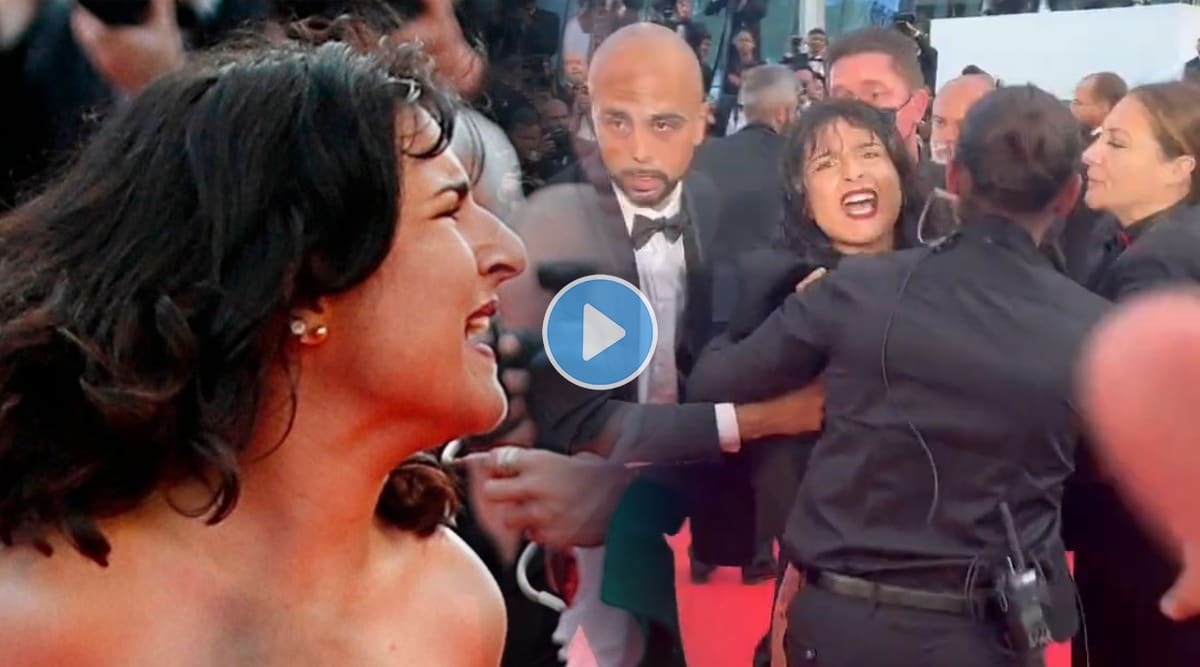 The internationally acclaimed Cannes Film Festival is currently the talk of the town. May 28 will be the last day of this festival that started on May 17. We see a variety of nuts on the Cannes red carpet. Meanwhile, many photos and videos are also going viral on social media. But something strange has happened at this festival. The video of the incident is becoming very viral on social networks.
What exactly is the case?
While the film was screening at the Cannes Film Festival, a woman suddenly stepped onto the Cannes red carpet. Not only that, but this time she started screaming. The limit was that this woman was undressing and she started shouting slogans on the red carpet. She was sitting on her knees and screaming. The woman had painted her body the color of the Ukrainian flag. In the center of her body was written "Stop Rapping Us". Also the word SCAM was written on the back. She also had red handprints on her body.
Read More – "Don't Divide the Country Because…" Akshay Kumar Finally Breaks His Silence on the South's Controversy Against Bollywood
According to the Hollywood Report, the nude woman was sitting on her knees in front of the photographers, screaming. The security guards who were present at her place put a black coat on her body and took her out of it. The video of this shocking incident was shared by kyle buchanan from his tweet account.
Read More – Actress Kangana Ranaut Shocked, Despite Spending Rs Crores, 'Dhakad' Turned Out To Be A Super Flop
Seeing this kind of unknown woman, even the audience was stunned for a while. The woman was trying to denounce the sexual harassment of women in Ukraine. The war between Russia and Ukraine continues today. Russian soldiers are also alleged to abuse Ukrainian women.


2022-05-21 10:48:50
Bhojpuri Stars Sketchy Love Stories. Khesari Lal | Pawan Singh | A…
Bhojpuri industry is very popular among the people nowadays. The Bhojpuri industry is second only to Bollywood in terms of viewership. Fans are also very fond of Bhojpuri artists and are also very eager to know everything related to them, be it their movies, songs or their love life. Many couples in the Bhojpuri industry were hugely successful on screen but their love stories could not find a destiny in real life. In this video, find out who those couples who broke up are.
Khesari Lal Table or Pawan Singh's Lal Ghaghra? What songs broke…
The year 2022 was very special for Bhojpuri cinema and especially for Bhojpuri music. Our Bhojpuri songs broke many records on YouTube, even leaving Bollywood and South Cinema far behind. So today we brought top 10 Bhojpuri songs of the year 2022, which you can listen to in the new year celebration or anytime, it will always make you dance.
OTT vs Theater | Is it fun to watch a movie at home or in a movie theater? , ENT Li…
It is no longer the time when movies were released in theaters before, people had no choice but this. Movie theaters were closed for two years due to the Covid 19 pandemic, so many filmmakers turned to OTT. Many viewers also began to wait for movies to come out on OTT instead of watching movies in theaters after Corona. Faced with such a situation, the question often arises as to whether the theater or the OTT platform is better. In this battle of Theaters vs OTT we got to know the opinion of the people in a fun way.