VIDEO: Aishwarya is shocked to see Leki posing for the camera, video goes viral on social media…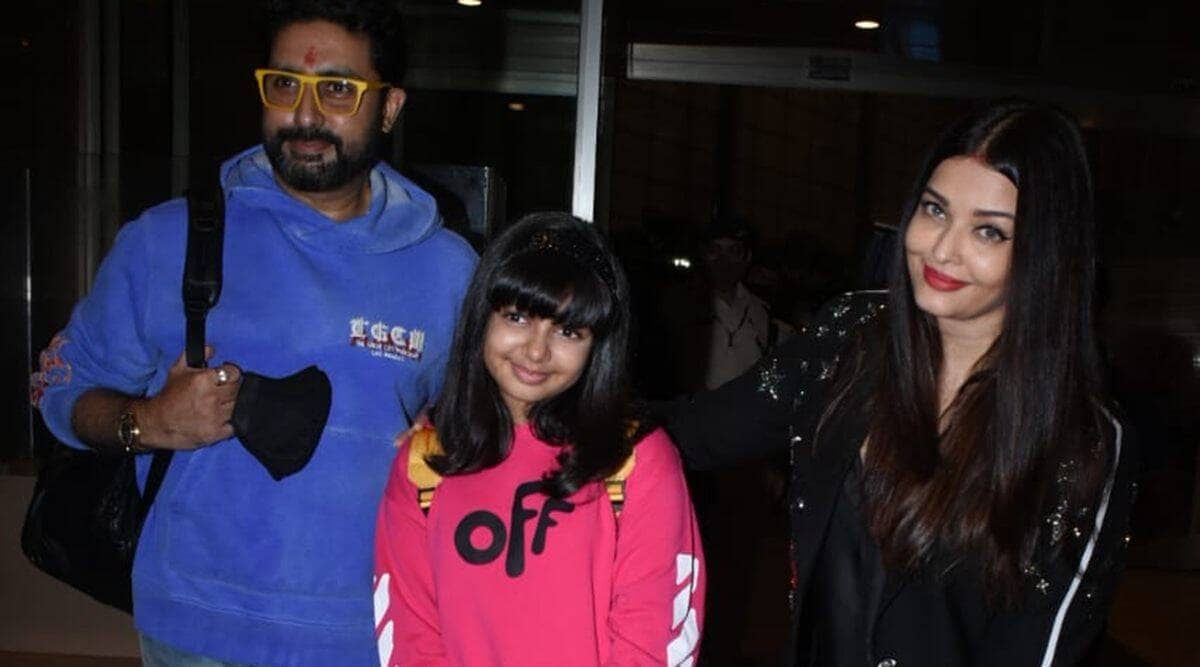 The most talked about family in Bollywood is the Bachchan family. From Amitabh Bachchan to his granddaughter Aradhya Bachchan, various discussions take place in B-Town. Aishwarya Rai and Abhishek Bachchan's Lake Aradhya is often seen running away from the camera. But this time he posed in front of the camera. And seeing this new incarnation of Aaradhya, Aishwarya continued to look at her alone. Meanwhile, a video is going viral on social media.
Abhishek and Aishwarya Rai went to the Cannes Film Festival. Meanwhile, he was surrounded by paparazzi photographers at the Mumbai airport. The joy on Aishwarya's face doubled when he saw Aaradhya posing for a photo. Aradhya was very absorbed in posing for photos. In fact, for the first time, everyone must have seen Aradhya behave openly in front of the camera.
Read More – Photos: Once again sharing bold photos, Ira Khan responds to trolls, saying, "I'm only for trolls."
This time, Aishwarya was wearing a black t-shirt, jacket and pants. Aradhya was wearing a pink dress. The My-Lakey pair seemed to stand out even with a simple look. Thousands of people have commented on her viral video. I also liked the video.
Read More – Photos: Have You Seen Madhuri Dixit-Doctor Shriram Nene's Romantic Photos, Special Post Shared For Wife
Aishwarya's new look can now be seen on the red carpet at the Cannes Film Festival. Actresses like Deepika Padukone, Pooja Hegde, Aditi Rao Haidari will also attend the Cannes Film Festival. It also includes southern artists.


2022-05-17 07:00:56
Bhojpuri Stars Sketchy Love Stories. Khesari Lal | Pawan Singh | A…
Bhojpuri industry is very popular among the people nowadays. The Bhojpuri industry is second only to Bollywood in terms of viewership. Fans are also very fond of Bhojpuri artists and are also very eager to know everything related to them, be it their movies, songs or their love life. Many couples in the Bhojpuri industry were hugely successful on screen but their love stories could not find a destiny in real life. In this video, find out who those couples who broke up are.
Khesari Lal Table or Pawan Singh's Lal Ghaghra? What songs broke…
The year 2022 was very special for Bhojpuri cinema and especially for Bhojpuri music. Our Bhojpuri songs broke many records on YouTube, even leaving Bollywood and South Cinema far behind. So today we brought top 10 Bhojpuri songs of the year 2022, which you can listen to in the new year celebration or anytime, it will always make you dance.
OTT vs Theater | Is it fun to watch a movie at home or in a movie theater? , ENT Li…
It is no longer the time when movies were released in theaters before, people had no choice but this. Movie theaters were closed for two years due to the Covid 19 pandemic, so many filmmakers turned to OTT. Many viewers also began to wait for movies to come out on OTT instead of watching movies in theaters after Corona. Faced with such a situation, the question often arises as to whether the theater or the OTT platform is better. In this battle of Theaters vs OTT we got to know the opinion of the people in a fun way.