Marathi actor Umesh Kamat is considered one of the leading actors in Marathi cinema. Umesh Kamat was also very active on social media. He has a huge fan base on social media. That's why his posts on social media often go viral. Umesh's recent post about his hit play 'Dada Ek Good News Aahe' is getting a lot of attention on social media.
Umesh Kamat, who is always active on social media, shared a post on his Instagram story about his play 'Dada Ek Good News Aahe'. Which seems to be getting a lot of discussion on social media. In posting it, Umesh Kamat wrote, "Due to a political party schedule, the rehearsal of the play 'Dada Ek Good News Ahe' on June 5 in Chinchwad has been cancelled. Audience tickets will be refunded.'
Read more- Video: Ranjit Dhalepatil will appear in uniform again! New twist on 'Raja Ranichi Gam Jodi' series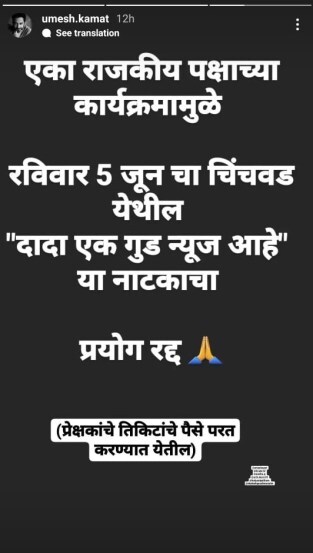 Actress Hruta Durgule has also shared this post from Umesh Kamat on her Instagram. Meanwhile, Umesh Kamat and Hruta Durgule play the lead roles in the play 'Dada Ek Good News Aahe'. For the last two years, these works have been making a lot of noise. The play, which tells a sweet story of a sister-brother relationship, has received a very good response from the public.
Read More- Manoj Muntashir's poem goes viral after 'Masjid hai ya shivala'
Meanwhile, speaking of Umesh Kamat's work, he had appeared in the series 'It's Still Raining' some time ago. He was joined by actress Mukta Barve in the lead role of the series. Apart from this, his web series 'What do you want from my world and what do you want' was also very popular.