Santhanam had to share video with Sleeping Tiger is trolled
Santhanam Tiger Video: South Star Santhanam has recently shared a video about which a controversy has arisen. Santhanam has shared a video with a tiger in which he is seen touching his tail. Fans are now calling this video insensitive.
Precisely, Santhanam has shared a video on his Twitter in which he is seen sitting near a tiger. In this video, he is sometimes seen playing with the tiger's tail and sometimes a person is seen playing with the resting tiger with a stick. Now this video is being heavily criticized on social media with users calling it inhumane.
Idharku why 🐅 valai pidikratha 😜#tigerlove #traveldiaries pic.twitter.com/1uW77pmPgz

— Santhanam (@iamsanthanam) December 25, 2022
A user asked Santhanam to delete the video. "The best way was to delete this tweet immediately after posting it, educate yourself on how not to pose with drugged animals and show your bravery without a fainted tiger/wolf/hyena or even try a monkey too.
Many also expressed disappointment that Santhanam has yet to remove the controversial video despite protests. Santhanam captioned the clip with the hashtags #tigerlove" and "#traveldiaries," "Idharku par puli valai pidikratha (That's what they call catching a tiger by the tail)."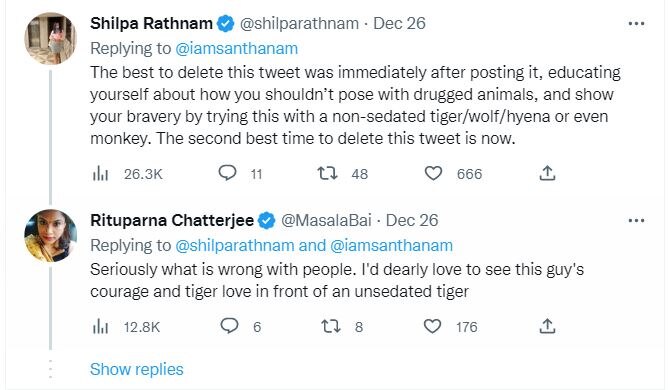 One user commented what a joke this is, people call him Tiger Love. This is useless tourism. As another wrote, you don't even realize you're promoting cruelty to animals.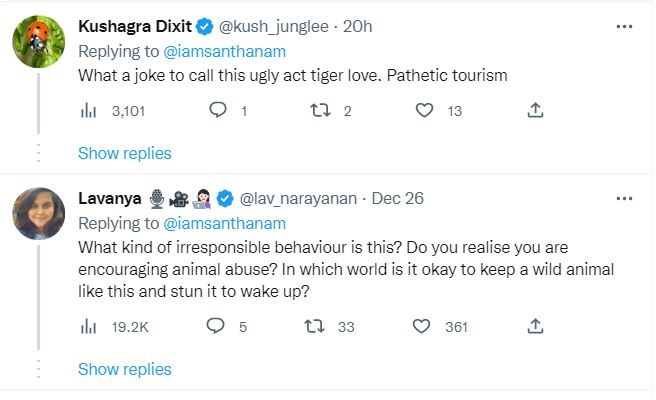 On the work front, Santhanam was last seen in Agent Kannayiram, a remake of the Telugu hit Agent Sai Srinivasa Athreya.
Also Read: Darshan Slipper Incident: 3 Defendants Arrested In Slippers Thrown Into Darshan, Video Goes Fiercely Viral
Bhojpuri Stars Sketchy Love Stories. Khesari Lal | Pawan Singh | A…
Bhojpuri industry is very popular among the people nowadays. The Bhojpuri industry is second only to Bollywood in terms of viewership. Fans are also very fond of Bhojpuri artists and are also very eager to know everything related to them, be it their movies, songs or their love life. Many couples in the Bhojpuri industry were hugely successful on screen but their love stories could not find a destiny in real life. In this video, find out who those couples who broke up are.
Khesari Lal Table or Pawan Singh's Lal Ghaghra? What songs broke…
The year 2022 was very special for Bhojpuri cinema and especially for Bhojpuri music. Our Bhojpuri songs broke many records on YouTube, even leaving Bollywood and South Cinema far behind. So today we brought top 10 Bhojpuri songs of the year 2022, which you can listen to in the new year celebration or anytime, it will always make you dance.
OTT vs Theater | Is it fun to watch a movie at home or in a movie theater? , ENT Li…
It is no longer the time when movies were released in theaters before, people had no choice but this. Movie theaters were closed for two years due to the Covid 19 pandemic, so many filmmakers turned to OTT. Many viewers also began to wait for movies to come out on OTT instead of watching movies in theaters after Corona. Faced with such a situation, the question often arises as to whether the theater or the OTT platform is better. In this battle of Theaters vs OTT we got to know the opinion of the people in a fun way.