Raveena Tandon's post discusses Owaisi's visit to Aurangzeb's tomb; She said: "India is…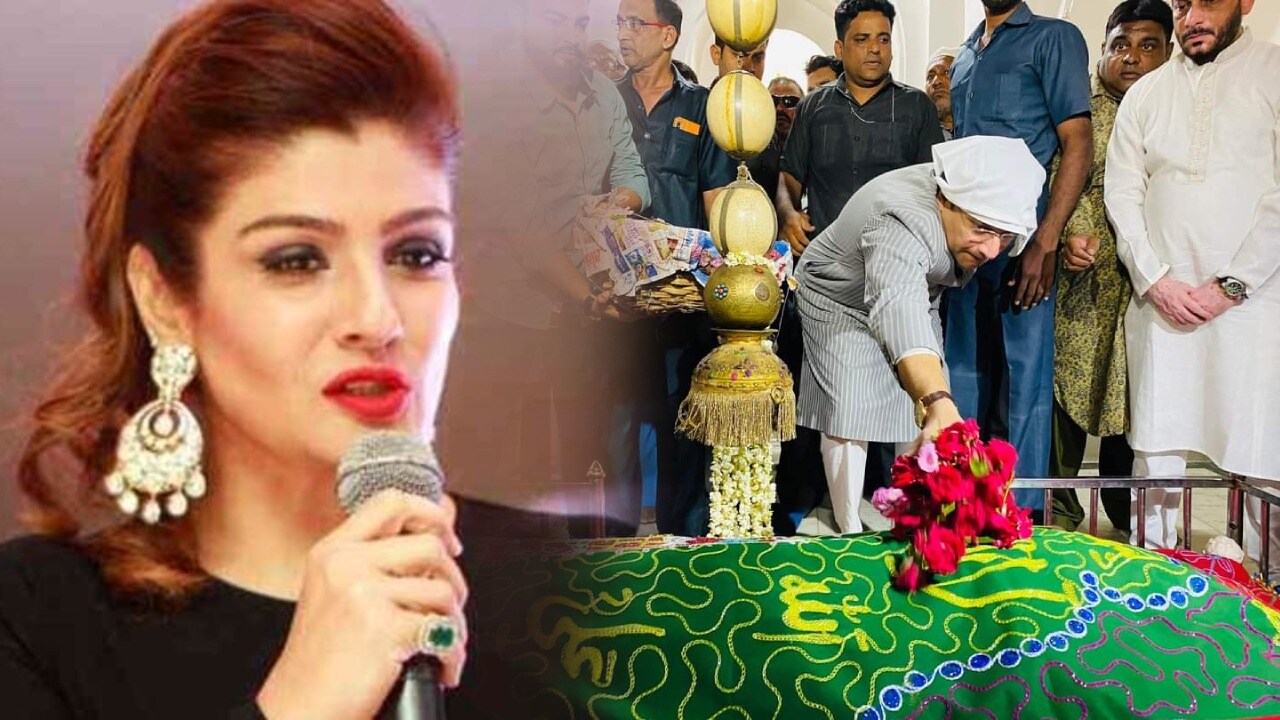 MIM leader Akbaruddin Owaisi, MP Imtiaz Jalil, Waris Pathan along with activists visited Aurangzeb's grave in Khultabad. Therefore, a new controversy has arisen. Now, Bollywood actress Raveena Tandon has shared her reaction by sharing the post on social media.
Raveena shared this post from her Twitter account. In this tweet, Raveena said: "Labeling my homeland 'intolerant' has been a trend for some time now. It shows how tolerant we are and how much we can tolerate. This is an example. Where is the intolerance?"
Read More: Seeing Amitabh Bachchan at the wedding reception party, Madhuri's husband, Dr. Nene, said, "I love him."
Previously, Raveena shared a tweet from writer Anand Ranganathan, saying, "We are tolerant, we were and we will continue to be. India is an independent country, anyone can worship anyone here. Everyone has equal rights here."
Read more: son of Balasaheb CM, 'disciple' Minister Shinde, MP son of Anand Dighe…; Nilesh Rane's post in discussion
What's the matter?
Writer Anand Ranganathan shared a photo of MIM MLA Akbaruddin Owaisi, who went to rest his head at Aurangzeb's grave. Sharing this photo, he said: "Praying on the grave of a demon who beheaded Guru Tegh Bahadur, beheaded Sambhaji Maharaj, destroyed Kashi and killed 4.9 million Hindus is an act of provocation."
Read More: Loksatta Exclusive: "मग Then Don't Delete It", Prasad Oak Gives Strong Opinion On Prajakta Mali's Political Role
Read More: Do You Know These Things About Anand Dighe AKA 'Balasaheb Thackeray of Thane'?
Raveena Tandon was recently seen in the movie 'KGF: Chapter 2'. The film did well at the box office. The film is one of the most successful blockbuster films of recent times. KGF 2 broke many box office records and became one of the most successful movies of all time. With a budget of Rs 100 crore, KGF 2 has now joined the Rs 1200 crore club.


2022-05-15 06:31:54
Bhojpuri Stars Sketchy Love Stories. Khesari Lal | Pawan Singh | A…
Bhojpuri industry is very popular among the people nowadays. The Bhojpuri industry is second only to Bollywood in terms of viewership. Fans are also very fond of Bhojpuri artists and are also very eager to know everything related to them, be it their movies, songs or their love life. Many couples in the Bhojpuri industry were hugely successful on screen but their love stories could not find a destiny in real life. In this video, find out who those couples who broke up are.
Khesari Lal Table or Pawan Singh's Lal Ghaghra? What songs broke…
The year 2022 was very special for Bhojpuri cinema and especially for Bhojpuri music. Our Bhojpuri songs broke many records on YouTube, even leaving Bollywood and South Cinema far behind. So today we brought top 10 Bhojpuri songs of the year 2022, which you can listen to in the new year celebration or anytime, it will always make you dance.
OTT vs Theater | Is it fun to watch a movie at home or in a movie theater? , ENT Li…
It is no longer the time when movies were released in theaters before, people had no choice but this. Movie theaters were closed for two years due to the Covid 19 pandemic, so many filmmakers turned to OTT. Many viewers also began to wait for movies to come out on OTT instead of watching movies in theaters after Corona. Faced with such a situation, the question often arises as to whether the theater or the OTT platform is better. In this battle of Theaters vs OTT we got to know the opinion of the people in a fun way.