News of the death of Tunisha Sharma Bhojpuri actress Rani Chatterjee and Akshara…
Bhojpuri actresses react to news about Tunisha Sharma's death: News of the death of well-known television actress Tunisha Sharma has created a stir on social media. Tunisha Sharma committed suicide by hanging on the set on December 24. Since last day, on social networks, from the relatives of the actress to the stars of the world of cinema, they are seen immersed in the wave of mourning. Unheard of secrets related to the death of Tunisha Sharma are revealed every hour.
Recently, Bhojpuri actress Rani Chatterjee and Akshara Singh also expressed their grief over the death of Tunisha Sharma. Both Rani Chatterjee and Akshara Singh are very upset to hear the news of the death of the actress.
Posting Tunisha Sharma's video on her Instagram story, Rani Chatterjee has expressed her heartbroken feelings. As she shared the video of herself, Rani Chatterjee wrote RIP in the caption and wrote why…heartbroken. So, on the other hand, Akshara Singh also expressed her grief over the death of Tunisha Sharma and shared the video of her with the Broken Heart emoji.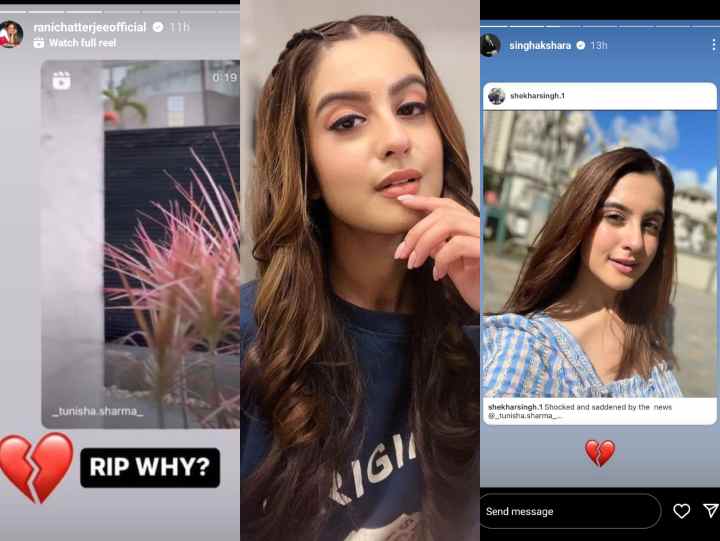 Not only Bhojpuri stars but many famous stars from the world of TV are shocked to hear the news of Tunisha Sharma's death. Tunisha had forgotten herself in love with Sheejan Mohd. Tunisha Sharma was very upset about the broken relationship of hers. Sheezan and Tunisha used to work together in the TV series 'Ali Baba Dastan e Kabul'. But Sheejan's betrayal broke Tunisha's heart.
The actress was also taking pills for depression. On December 16, when the actress was filming on the set, Tunisha also suffered from an anxiety attack, after which the people from the set took her to the Borivali hospital.
Also Read- Tunisha Sharma Death: Tunisha Sharma Autopsy At JJ Hospital, Secrets Related To Death To Be Revealed In Report
Bhojpuri Stars Sketchy Love Stories. Khesari Lal | Pawan Singh | A…
Bhojpuri industry is very popular among the people nowadays. The Bhojpuri industry is second only to Bollywood in terms of viewership. Fans are also very fond of Bhojpuri artists and are also very eager to know everything related to them, be it their movies, songs or their love life. Many couples in the Bhojpuri industry were hugely successful on screen but their love stories could not find a destiny in real life. In this video, find out who those couples who broke up are.
Khesari Lal Table or Pawan Singh's Lal Ghaghra? What songs broke…
The year 2022 was very special for Bhojpuri cinema and especially for Bhojpuri music. Our Bhojpuri songs broke many records on YouTube, even leaving Bollywood and South Cinema far behind. So today we brought top 10 Bhojpuri songs of the year 2022, which you can listen to in the new year celebration or anytime, it will always make you dance.
OTT vs Theater | Is it fun to watch a movie at home or in a movie theater? , ENT Li…
It is no longer the time when movies were released in theaters before, people had no choice but this. Movie theaters were closed for two years due to the Covid 19 pandemic, so many filmmakers turned to OTT. Many viewers also began to wait for movies to come out on OTT instead of watching movies in theaters after Corona. Faced with such a situation, the question often arises as to whether the theater or the OTT platform is better. In this battle of Theaters vs OTT we got to know the opinion of the people in a fun way.