Monalisa Akshara Singh Kajal Raghwani Aamrapali Dubey Bhojpuri Stars N…
Bhojpuri Stars New Year Celebration: The new year has begun at the end of 2022. The whole world celebrated the New Year with great pomp. The Bhojpuri stars also left no stone unturned to make their New Year celebrations memorable. The Bhojpuri industry stars thoroughly enjoyed the first New Year's Eve. Some celebrated and others spent quality time with their family at home. Let us show you glimpses of Bhojpuri's New Year celebrations of the stars.
Mona Lisa
Bhojpuri actress Monalisa celebrated the New Year with her husband Vikrant. The actress partyed at the club and danced to 'Besharam Rang'. During this, Monalisa looked very glamorous in a glittery dress. At the same time, her husband also looked handsome in a multicolored jacket and pants. The actress has shared the video of her New Year's celebration, in which her romantic moments have also been captured.


akshara singh
Bhojpuri actress Akshara Singh also celebrated the New Year with great pomp last night. Sharing a video, the actress also wished her fans the new year, saying in the caption, "There will be more dhamal and riot this year. Keep giving your love like this. During this, the actress looked gorgeous in a red blazer with a black top.


Kajal Raghwani
The famous Bhojpuri actress Kajal Raghavani also celebrated the New Year in a big way and did not forget to wish her fans as well. She wished fans a New Year by sharing videos on Instagram. During this, she looked very beautiful in a light pink sequined dress.


Aamrapali Dubey
Bhojpuri Hasina Amrapali Dubey welcomed the new year with her family. The actress just enjoyed it and shared a boomerang on her Insta story.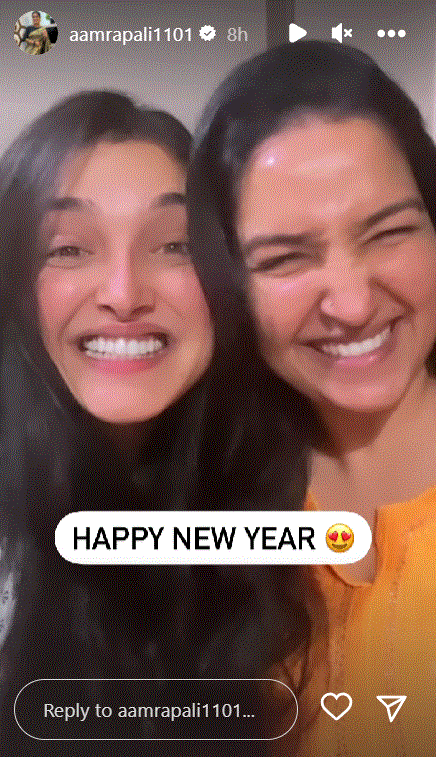 Read this too- Kajal Raghwani or Poonam Dubey… Which heroine beat out Khesari in terms of followers?
Bhojpuri Stars Sketchy Love Stories. Khesari Lal | Pawan Singh | A…
Bhojpuri industry is very popular among the people nowadays. The Bhojpuri industry is second only to Bollywood in terms of viewership. Fans are also very fond of Bhojpuri artists and are also very eager to know everything related to them, be it their movies, songs or their love life. Many couples in the Bhojpuri industry were hugely successful on screen but their love stories could not find a destiny in real life. In this video, find out who those couples who broke up are.
Khesari Lal Table or Pawan Singh's Lal Ghaghra? What songs broke…
The year 2022 was very special for Bhojpuri cinema and especially for Bhojpuri music. Our Bhojpuri songs broke many records on YouTube, even leaving Bollywood and South Cinema far behind. So today we brought top 10 Bhojpuri songs of the year 2022, which you can listen to in the new year celebration or anytime, it will always make you dance.
OTT vs Theater | Is it fun to watch a movie at home or in a movie theater? , ENT Li…
It is no longer the time when movies were released in theaters before, people had no choice but this. Movie theaters were closed for two years due to the Covid 19 pandemic, so many filmmakers turned to OTT. Many viewers also began to wait for movies to come out on OTT instead of watching movies in theaters after Corona. Faced with such a situation, the question often arises as to whether the theater or the OTT platform is better. In this battle of Theaters vs OTT we got to know the opinion of the people in a fun way.