Loksatta Exclusive: "Sarsenapati Hambirrao Mohite's Wife Is Not Recorded In History" Praveen Tarden…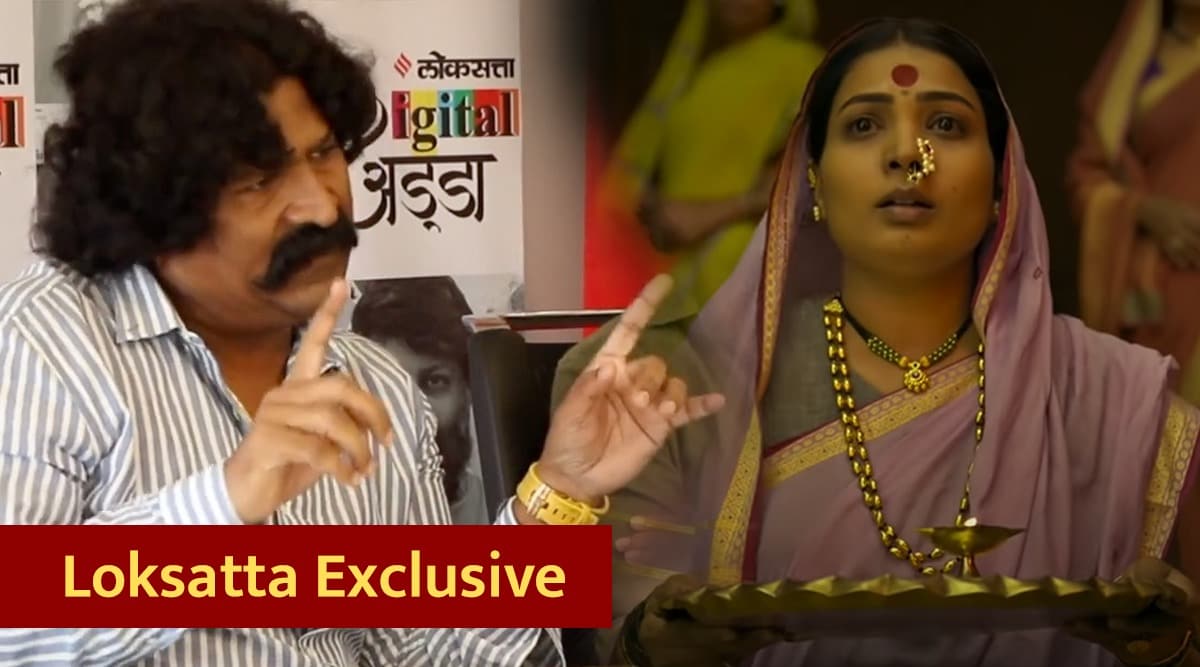 The movie 'Sarsenapati Hambirrao' starring famous director and actor Praveen Tarde will be released on May 27, 2022. The heroic story of Chhatrapati Shivaji Maharaj and Chhatrapati Sambhaji Maharaj's commander-in-chief Hambirrao Mohite will be seen in this movie. Praveen Tarde, Mahesh Limaye and the team attended Loksatta Online's 'Digital Adda' for the film. This time they shared behind-the-scenes stories from the movie. Apart from that, in this interview he also lamented that the name of the wife of Hambirrao Mohite, the Commander-in-Chief of both Chhatrapatis, is not recorded in the story.
Director and actor Praveen Tarde will star in 'Sarsenapati Hambirrao'. The role of Hambirrao Mohite's wife is played by Praveen Tarde's wife, Snehal Tarde. But while preparing the film, Praveen Tarde was looking for the name of Hambirrao Mohite's wife. Praveen Tarde told Loksatta.com in an interview what happened to him and how he was named in the film when there is no record of Hambirrao Mohite's wife in the story.
Read more- Have you seen the dhammal video of Valli and my aunt?
Praveen Tarde said, "While I was preparing the film, a historian argued with me. I simply told them that the world knows the commander-in-chief. Everyone knows Chhatrapati Shivaji Maharaj and Chhatrapati Sambhaji Maharaj. Everyone knows the names of their wives, the Maharanas. But the name of Mauli, the wife of the commander-in-chief who conquered the world and from whose womb Tararani was born, is not in history. I told them, history has only made men great. But they forgot the Mauli from whose womb they were born ".
Praveen Tarde further said, "We searched a lot, but in history we did not find the name of Hambirrao Mohite's wife. When I say, history has noted an obedient woman like Tararani, but there is no record that she gave birth to Tararani "That historian fell on me. So I told them to answer me instead of arguing. I later contacted Vikram Singh Baji Mohite. He then told me that the name of Hambirrao Mohite's wife could not be found. But we wanted to show Hambirrao's wife in the film. He wanted to show her to his family. Although her name is not mentioned in the story, it was unavoidable for the film, so we called Tararani's mother 'Lakshmibai' in the film."
Meanwhile, the film 'Sarsenapati Hambirrao' will be released on May 27. The film is directed, written, scripted, and scripted by Praveen Tarde, who also plays the lead role. After the release of the movie trailer, the audience is very curious about this movie.


2022-05-20 12:33:55
Bhojpuri Stars Sketchy Love Stories. Khesari Lal | Pawan Singh | A…
Bhojpuri industry is very popular among the people nowadays. The Bhojpuri industry is second only to Bollywood in terms of viewership. Fans are also very fond of Bhojpuri artists and are also very eager to know everything related to them, be it their movies, songs or their love life. Many couples in the Bhojpuri industry were hugely successful on screen but their love stories could not find a destiny in real life. In this video, find out who those couples who broke up are.
Khesari Lal Table or Pawan Singh's Lal Ghaghra? What songs broke…
The year 2022 was very special for Bhojpuri cinema and especially for Bhojpuri music. Our Bhojpuri songs broke many records on YouTube, even leaving Bollywood and South Cinema far behind. So today we brought top 10 Bhojpuri songs of the year 2022, which you can listen to in the new year celebration or anytime, it will always make you dance.
OTT vs Theater | Is it fun to watch a movie at home or in a movie theater? , ENT Li…
It is no longer the time when movies were released in theaters before, people had no choice but this. Movie theaters were closed for two years due to the Covid 19 pandemic, so many filmmakers turned to OTT. Many viewers also began to wait for movies to come out on OTT instead of watching movies in theaters after Corona. Faced with such a situation, the question often arises as to whether the theater or the OTT platform is better. In this battle of Theaters vs OTT we got to know the opinion of the people in a fun way.