Hrishikesh Joshi and Priyadarshan Jadhav release 'Chuperustam'? What exactly is Bangad? | Hrishikesh Joshi…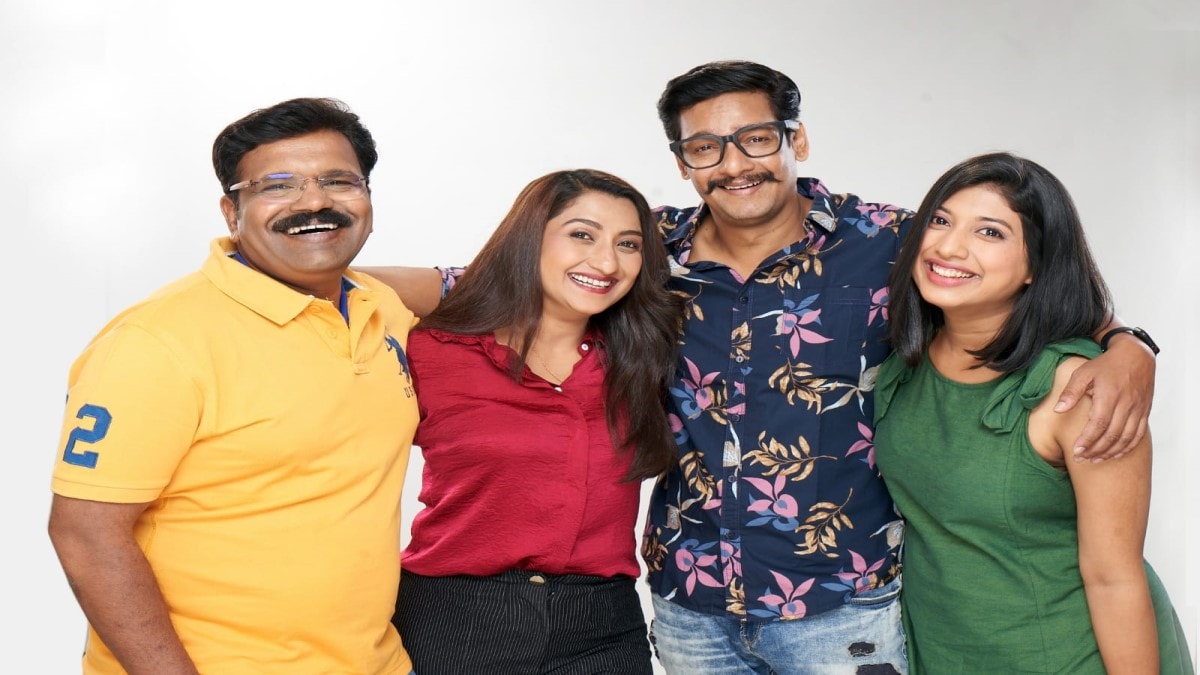 Actors Hrishikesh Joshi and Priyadarshan Jadhav have entertained the audience till date by traveling in the three fields of writing, directing and acting. Currently, there is talk in theatrical circles that both are hiding Rustam. Why are these two called hidden Rustam? What exactly is wrong with these two? All this will be revealed on May 15. The two Harunnari actors have teamed up for the upcoming play 'Chuperustam'.
The two-act play, produced by Pravesh and Disha and directed by Vijay Kenkare, will premiere on May 15. Needless to say, Hrishikesh Joshi and Priyadarshan Jadhav will be teaming up for this occasion. The play was full of farce, humor and gossip. Both say that it is a privilege to work on this work with a special touch of Vijay Kenkare.
One hundred percent truth is that nobody ever speaks. Everyone is hiding something. If this secret is between husband and wife, then everything becomes difficult. The play 'Chhupe Rustam' is all about the game of hide and seek between husband and wife and all the fuss about the ropes flying through it, the exercise on the ropes, the gochi done. The play is based on the French play 'La Mentira'. Mayura Ranade and Krishna Rajshekhar are working with Hrishikesh Joshi and Priyadarshan Jadhav. The play 'Chhupe Rustam' will try to unravel the intimacy between husband and wife with a dose of humour.
Sunday, May 15 at 4:15 p.m. Dinanath Natyagriha Vile Parle and on Monday, May 16 at 3:30 p.m. The play will premiere at the Shivaji Temple, Dadar. Priya Patil and Anita Mahajan have produced the play 'Chhupe Rustam'. Previously, the organization has produced plays such as 'Jwalant', 'Ashayaghan' and 'Dont Wari Ho Jaega' with the humorous drama 'Galati Se Mistek', which has been successful in several commercial drama competitions. The play is written by Tejas Ranade. The backstage message is by Bendre and the music is by Ajit Parab. The lighting scheme is by Sheetal Talpade.


2022-05-14 05:29:42
Bhojpuri Stars Sketchy Love Stories. Khesari Lal | Pawan Singh | A…
Bhojpuri industry is very popular among the people nowadays. The Bhojpuri industry is second only to Bollywood in terms of viewership. Fans are also very fond of Bhojpuri artists and are also very eager to know everything related to them, be it their movies, songs or their love life. Many couples in the Bhojpuri industry were hugely successful on screen but their love stories could not find a destiny in real life. In this video, find out who those couples who broke up are.
Khesari Lal Table or Pawan Singh's Lal Ghaghra? What songs broke…
The year 2022 was very special for Bhojpuri cinema and especially for Bhojpuri music. Our Bhojpuri songs broke many records on YouTube, even leaving Bollywood and South Cinema far behind. So today we brought top 10 Bhojpuri songs of the year 2022, which you can listen to in the new year celebration or anytime, it will always make you dance.
OTT vs Theater | Is it fun to watch a movie at home or in a movie theater? , ENT Li…
It is no longer the time when movies were released in theaters before, people had no choice but this. Movie theaters were closed for two years due to the Covid 19 pandemic, so many filmmakers turned to OTT. Many viewers also began to wait for movies to come out on OTT instead of watching movies in theaters after Corona. Faced with such a situation, the question often arises as to whether the theater or the OTT platform is better. In this battle of Theaters vs OTT we got to know the opinion of the people in a fun way.