Happy Birthday Vidya Balan and Siddharth Roy Kapur Mushy Love Story
Happy birthday Vidya Balan: Vidya Balan is a successful Bollywood actress today. Although it was not so easy for her to take the step to the cinema, but after convincing her of acting in southern movies, she took the step to the Bollywood cinema and nowadays she is still climbing the stairs of success. Well, January 1st is Vidya's birthday and on this special occasion we won't be talking about her film career but her love journey. Filmmaker Siddharth Roy Kapur is the husband of Vidya Balan and they both got married after falling in love.
Vidya Balan's love story has been interesting
Let me tell you that this is Siddharth Roy Kapur's third marriage to Vidya Balan. His first marriage was to his childhood friend Aarti Bajaj. However, this marriage did not last long and they both divorced. After Aarti Bajaj, Siddharth married TV producer Kavita. Their marriage did not work out either and in the year 2011, Kavita and Siddharth separated after getting divorced. After this, Siddharth's heart fell on Vidya. Although Siddharth had love at first sight with Vidya.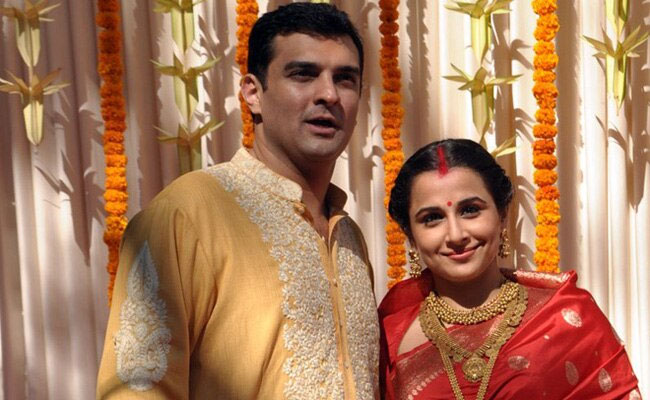 Vidya showed tantrums by agreeing to marry
Seeing Vidya, Siddhartha gave her his heart. The first meeting of the two took place backstage at the Filmfare Awards. Karan Johar had introduced these days to each other. Vidya was a successful actress even at that time and Siddharth Roy Kapur was also a big name in the film industry. The two couldn't meet in a public place, but the conversation continued fiercely between them. Their love blossomed and they both got married. Although Vidya had been slow to accept the marriage.


Vidya Balan married Siddharth Roy Kapur on December 14, 2012. Both have also completed 10 years of marriage. Recently, Vidya also expressed the happiness of completing 10 years of her marriage by sharing a post on social media. Her marriage was very simple. Both took seven rounds at the bungalow called Green Gift located in the Bandra area of ​​Mumbai. The wedding was attended only by the families of both and some relatives. Vidya and Siddharth are childless yet, but their married life is going on very happily.
read this too:
The second season of this famous animated fantasy will premiere in the first week of the new year, see here
Naresh and Pavitra Wedding: Mahesh Babu's brother Naresh is getting married for the fourth time, wedding announcement in this style with actress Pavitra!
Bhojpuri Stars Sketchy Love Stories. Khesari Lal | Pawan Singh | A…
Bhojpuri industry is very popular among the people nowadays. The Bhojpuri industry is second only to Bollywood in terms of viewership. Fans are also very fond of Bhojpuri artists and are also very eager to know everything related to them, be it their movies, songs or their love life. Many couples in the Bhojpuri industry were hugely successful on screen but their love stories could not find a destiny in real life. In this video, find out who those couples who broke up are.
Khesari Lal Table or Pawan Singh's Lal Ghaghra? What songs broke…
The year 2022 was very special for Bhojpuri cinema and especially for Bhojpuri music. Our Bhojpuri songs broke many records on YouTube, even leaving Bollywood and South Cinema far behind. So today we brought top 10 Bhojpuri songs of the year 2022, which you can listen to in the new year celebration or anytime, it will always make you dance.
OTT vs Theater | Is it fun to watch a movie at home or in a movie theater? , ENT Li…
It is no longer the time when movies were released in theaters before, people had no choice but this. Movie theaters were closed for two years due to the Covid 19 pandemic, so many filmmakers turned to OTT. Many viewers also began to wait for movies to come out on OTT instead of watching movies in theaters after Corona. Faced with such a situation, the question often arises as to whether the theater or the OTT platform is better. In this battle of Theaters vs OTT we got to know the opinion of the people in a fun way.