Film Wrap: Why Krishna Wants To Quit The Kapil Sharma Show, List Of Filmfare 2020
Know what was special in the entertainment world on Monday, including film, TV, Bollywood, Hollywood through film wrap.
Saif gave this reaction to Sara-Karthik's chemistry in Love Nowadays
In the year 2009, when Saif Ali Khan worked with Imtiaz Ali in the film Love Nowadays, he would never have imagined that after 11 years his daughter Sara Ali Khan was also with the same director, on the same concept, the film with the same name I would be playing the lead role but this is happening. Karthik Aryan and Sara Ali Khan's onscreen chemistry is also being discussed a lot due to Love Nowadays directed by Imtiaz Ali.
What happened during the promotion of the film was that Sara Ali Khan had to stop the speech
Bollywood actress Sara Ali Khan is eagerly awaiting the release of her third film. Why not only Sara but her fans are also desperate to see Sara once again on the silver screen. The entire film is busy in the promotion of Love Aaj Kal. During this time, a video is viral on social media, in which Sara is talking about her mother, suddenly, the public suddenly started making noise by taking the name of Karthik. Sara was quite surprised to see this.
Urvashi became a gluttonous Manjulika, leaving the glamorous look, all surprised to see pictures
Bollywood actress Urvashi Rautela is often in the headlines due to her look. Recently some pictures of her are becoming viral on social media. Urvashi's look in these pictures is quite different. In the picture, Urvashi looks like the actress of the horror movie. After watching Urvashi's makeover, fans have remembered Manjulika of the film Bhool Bhulaiyaa.
Why Krishna wants to leave 'The Kapil Sharma Show', the reason has come out
Comedian Kapil Sharma's second innings on TV has been bang till now. He has not only won the hearts of the audience with his amazing comedy but has also created many records in the case of TRP. But if we say that this success of Kapil Sharma is alone, then it would be unfair because the entire team of Kapil Sharma show has been instrumental in reaching these heights in this show.
Filmfare Awards 2020: See the full list here, know who got a nomination
The nomination for the Filmfare Award 2020 has been announced. The audience was eagerly waiting for the list of nominees. It is India's most awaited award night. Filmfare Award Night will be held in Guwahati on 15 February this year. The event will be celebrated by nominees and technical award winners. The nomination will be in 19 main categories.
Natyar Rang : Presentavar Artistic Commentary | Natyarang Artistic Commentary Introduces Live Man Li…
"From Adalia?"
Ravindra Pathre
Although man needs bread to survive, he needs flowers (also art) to make his life beautiful, noble, edifying. Although there is no obstacle to not having flowers, if there is no flower, there is not much difference between human and animal life. Art and artists uplift man. They provide man with oxygen to live a prosperous life. While this is a trinitarian truth, today we have set out to end the existence of art and artists by writing them off as secondary. There is no doubt that this will make your life dry, dry and numb. Emotions, which are a sign of human vitality, will disappear from him. In today's virtual world, the materialistic approach has transformed man into a machine. Universal greed is his hallmark. The 'humanity' in man becomes more and more visible. But neither he nor the so-called socialites are aware of this! Recently, a very beautiful stage play was seen with a touching comment on all these situations… 'Why are you stuck?' He not only comments on art and artists, but also on the present. Today, right-wing ideologies have started using haidos all over the world. The world seems to have been run by leaders who resembled dictator Hitler's so-called 'nationalist' ideology. India is no exception. Religious polarization, the rise of so-called nationalism, the oppression of minorities, the ongoing conspiracy to keep people in the dark by presenting emotional problems instead of confronting the basic problems of life, to confuse people by spreading false propaganda … We live in such a strangely polluted environment. Our current sad reality is that the authorities are doing their part by involving people in a perpetually deceived world (virtual reality). The false story for that is being excavated/spread. A conspiracy is being hatched to silence those who speak out against this by involving them in real/fake 'cases' and to silence them. Today, people are being misled against the existence of a very rare species in society. They are being ridiculed. And we are all frustrated and helpless as we see all of this happening in front of us. No, we are unknowingly becoming part of this conspiracy.
In this context, the 'Drama Company' produced 'Adalanya Ka?' This play is trying to wake you up with a sparkle in its eyes. The work manages to awaken the suffering community through art. This is the Indian version of Charles Lewinsky's The Occupation. It has been organized in collaboration with Maxmöller Bhavan, Pune and the Swiss Consulate General, Mumbai. It has been translated by Shaunak Chandorkar. Parna Pethe, Atul Pethe and Nipun Dharmadhikari have all proven their worth. It has been directed by Nipun Dharmadhikari.
A city in Germany. One of the corporate firms receives a call for a proposed deal. Consequently, Paula, a young company consultant, attended the speech given for the business meeting. He goes to a theater. she has no idea. Naturally, she's surprised. At a theater and a business meeting? But if we're going to come, we have to have a meeting. There, a man named Albrecht greets her strangely. The way she was received doesn't make any sense to her. Albrest tells Paula that he wants to buy the theater. She says: 'This theater belongs to the municipality. We are just a consulting company. Paula's firm has suggested a 20 percent cut in theater subsidies to the municipality. So Albrest is angry. He realizes that this is a ploy to shut down the theater. That is why he sent a proposal to this firm that he is interested in buying this theater. He also knows that the company has no right to sell the theater. But the municipality wants to close the theater with a gun on the shoulder of the firm. Albrest then tries to save the theater by mixing up the relevant firm. He desperately tries to persuade Paula. But she does not grow at all. He is firm in her decision.
This drama is the intellectual and mental juxtaposition between the two! Paula asks Albrest: 'Why do you want to buy this theater?' She then she says: 'To the brothel! Then the municipality will not have to subsidize it; You can also get a lot of GST income. What could be a more poignant critique of municipal governance and its policies? Albrecht continues to brainwash Paul on various topics. But she doesn't back down on his decision. As Albrest is brooding over the fact that she is 'playing' and 'playing' with us, her assertiveness becomes more and more convincing. Gradually, she too became interested in his 'game'. She makes more moves than he does. But Albrecht is an artist of the bones. He doesn't stop trying to defeat Paula inventing new moves every time. But Paula also survives. In the end, Albrecht plays a game of life and death. But then the emotional woman in him wakes up.
Due to the ruthless competition in Paula's company, she also has a sword hanging over her work. And her past is shaping her future. However, when Albrest notices this, the artist bows his head in shame. she gives up
Evanna would have misunderstood her destiny. They both deal with her confidence when they choose to embark on their gaming activities. Paula puts two options in front of her. One- to close the theater. And secondly, to present the art according to the terms and conditions accepting the ideology and policies of the municipal authorities! Albrecht denies both. He loves his freedom and art more than his life. Paula is also exposed to the illusory world in which we live. And she also decides to quit… (Of course, this can also be a fantasy!)
This game is a game of thoughts. But it is still the first 'drama', it has not been 'prewritten'. Credit must be given to all congregations that performed the work. Although the background of the play is foreign, the reality of the play is equally applicable to the current situation in India. In fact, it's a harsh comment on the situation here. Initially, it is not clear what the play is about. So it was a bit tricky. But as it goes, its sharp edge comes to light. Even so, owning one is still out of reach for the average person. The work says a lot about the common man, his apathy towards art, the current socio-political situation, uncivilized and unthinking leaders, the throwaway policies of corporate culture, universal inhumanity. And despite that, the 'drama' remains at the top for decades. The highest quality of writing, coloring, directing, presentation, acting of the artists is the characteristic of 'Adalanya Ka?' In recent years, we have not seen a work that is thought-provoking, but has not lost its allure of drama.
In the case of Atul Pethe, it is doubtful whether or not it is a drama based on his own life. This should definitely be a memorable role in his acting career. Kudos to Albresht's emotional and artistic expression for the finesse with which he presents it! In the role of Paula, Parna Pethe has introduced an equal relationship with her. In a way, he has paid homage to her father, Paula, who has a great devotion to the theater and the ideological role. This juxtaposition of father and daughter is greed; More than that, it continues the legacy of the ideology. Parna Pethe has passionately expressed the gradual change in Paula's mindset. The changing ups and downs of her dialogue respond to this.
The play has reached the height of audiovisual poetry due to Nipun Dharmadhikari's comprehensive directing skills. He has made the exercise of commenting on the present reality without losing the drama of the work. Shivadhanushya has easily cultivated the idea of ​​putting on a play by taking it in stride and considering his thoughts. How is that? It would be a good idea to try it! If you want to enjoy a play that is passionate, thought-provoking, artistic and at the same time entertaining, you have to ask yourself: 'Why?' There is no choice but to watch.


2022-05-21 18:33:00
'Pravah Picture' ObserverBhetila | Flow Image Audience Stressful family life Cinema Media…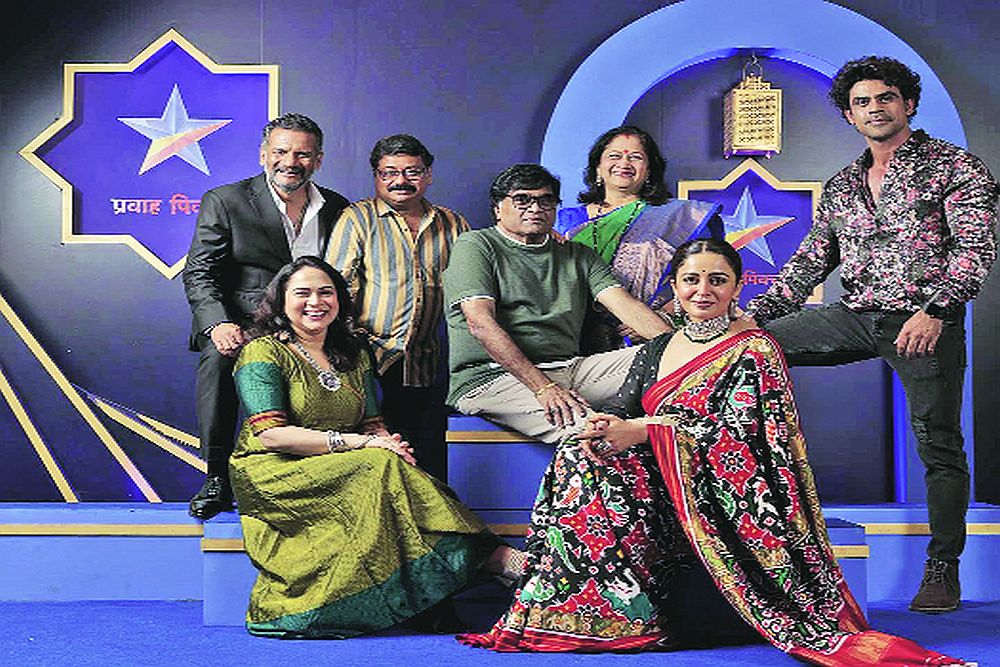 In the stressful everyday life, family gatherings are rare. Cinema is a magical medium that unites the whole family. This brings light to the memory and unknowingly brings a smile and a smile to the face. A new channel called 'Pravah Picture' has been launched with the aim of bringing the whole family together through entertainment and giving them the gift of new blank movies. The new Disney Star movie channel was announced at a press conference recently. On this occasion, all the veteran actors and dignitaries of the Marathi film industry were present.
A new movie called 'Pravah Picture' will have its world premiere on TV every Sunday. This is the first time such an experiment has been conducted on a Marathi movie channel. Thus, the golden age of the silver world is literally beginning through the 'Pravah Picture' channel. We are delighted to expand the Brand brand through a new channel called 'Flow Picture'. Through this channel, Marathi cinema has an opportunity to celebrate and entertain the audience. Through this channel, domestic viewers will be able to enjoy their favorite movies. We are confident that 'Pravah Picture' will be the rights channel for a Marathi family looking for quality entertainment,' said Kevin Vaz, Head of Network Entertainment Channels and 'Disney Star'.
Movie premieres on 'Pravah Picture' channel will start with the most successful movie 'Pavanikhad'. The hit movie will air on June 19. The film has done well at the box office. Apart from this, another blockbuster movie 'Jhimma' directed by Hemant Dhome will be seen in 'Pravah Picture'. Veteran actor Ashok Saraf's two films 'Kadhi Ambat Kadhi God' and 'Pravas' will also have a special feast at 'Pravah Picture'. Superstar Swapnil Joshi's 'Bali', Mahesh Manjrekar's 'Dhyanimani', critically acclaimed and internationally acclaimed 'Karkhanisanchi Wari' are some of the big movies to be seen on Pravah Picture in the coming weeks. 'Pravah Picture' will now bring this joy directly into your home. The special thing is that these movies will be broadcast only on 'Pravah Picture' as a world premiere on television and this will be the uniqueness of this channel.


2022-05-21 18:34:00
While doing it in Mahasinema..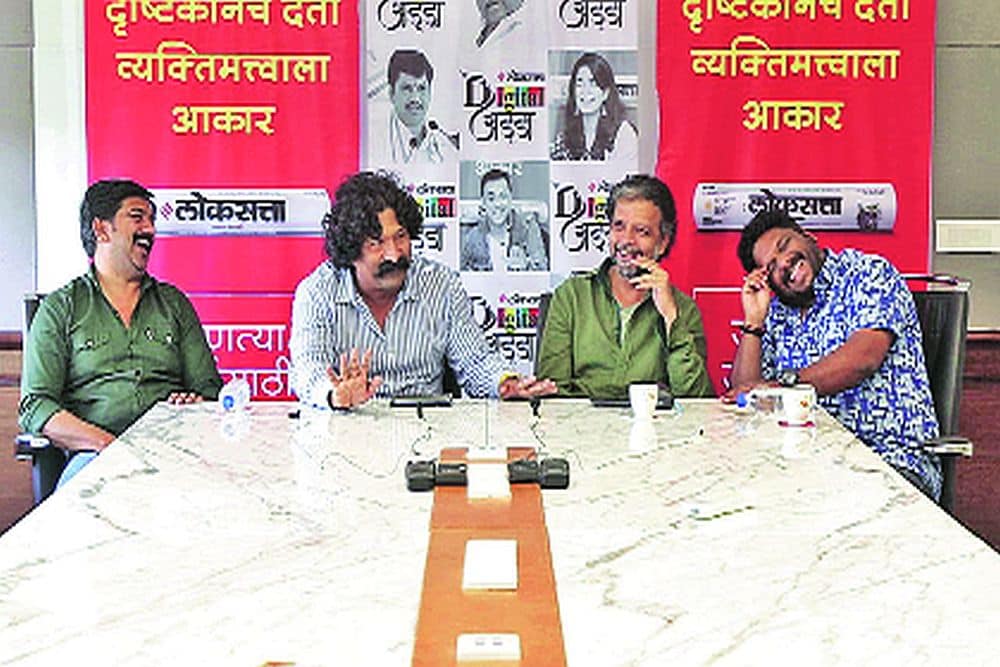 The great historical film 'Sarsenapati Hambirrao', directed by Praveen Tarde and starring the catchphrase 'Mahasitil in Marathi', will be screened at 27 Melas across the state. Praveen Tarde and cinematographer Mahesh Limaye talked freely with Loksatta about the preparations for the historical films, the cost of production and the challenges.
In 'Sarsenapati Hambirrao', Praveen Tarde has faced both the challenge of directing and that of starring. It was natural that both Chhatrapati Shivaji Maharaj and Chhatrapati Sambhaji Maharaj felt oppressed while playing the role of Hambirrao Mohite. It doesn't just look like that; His work, his skill, everything had to be painted with the same passion. Bodybuilding was a big part of this movie. So I worked hard to achieve it, but I also spent a lot of time both riding and training and fencing. I had to sit on a horse that flew through the air with all four legs, plus a seven and a half kilo sword. I wanted to carry two swords in those two hands, for which I needed physical strength and a lot of training, director Praveen Tarde said. .
I still want the hero in the window.
The producer of this film, Sandeep Mohite Patil, had set out to make a film about Hambirrao Mohite. He had seen the movie 'Mulshi Pattern' that I directed. They came to me because they wanted to make a great movie. Initially, we auditioned for the role of Hambir Rao. However, some of them did not have the physique required for such a role, but did not know the mathematics of acting. The opposite is true for others. We have many actors in the theater, they love to act. But when he acts in front of the camera and especially in historical roles, the actor has to prepare in a very different way. When you sit on a horse, the horse does not move automatically. He has to run. For that you have to learn riding techniques. You can't act part-time in a historical movie. After seeing all this, I decided to play the role of Hambir Rao myself. He said that for the last 15 years, I have been looking for a historical context for the movie, Exercise-Training and writing the story. Appearance is still important to us. It is decided by looking at the artist's face whether he is a hero or not. I'm not that kind of hero, but with a lot of preparation, I've mastered the art of directing and acting on this film, says Praveen.
Preparation is very important
I emphasize that 'Sarsenapati Hambirrao' is a very expensive film in Marathi. We had called in Hindi technicians for this film. It has already been decided to hire the same technicians who worked on historical films like 'Bajirao Mastani'. He also said it should be a great historical film in Marathi, in Hindi, it should look great on the screen, there should be no technical aspect missing, he said. The famous cinematographer Mahesh Limaye has done the photography for 'Sarsenapati Hambirrao'. Marathi youth like Mahesh Limaye are making historical movies like 'Bajirao Mastani' in Hindi, so why don't we call them Marathi? Tantra has a price and whether it is Bhansali or a Marathi director… they have to pay the same price. In this movie you will not see the looting battle. In the movie 'Bajirao Mastani', Ranveer Singh is seen fighting with a big jump. We have used the same horse that actor Ajay Devgn used in 'Tanaji'. These horses used in Hindi movies used to come and go in air-conditioned carts for filming, so their cost is huge. He also gave a little example saying that if you want to cost while making a historical film, you have to prepare on very different levels. If a war incident is portrayed to the artist, behind which bursting and bursting cannonballs are seen, then both the artist's movements and that explosion must be corrected at the same time. Even if the artist misses that moment, there will be an explosion behind him. Making an explosion is a big expense. It costs an artist as much as his daily wage to make an explosion. If the artist has to return the scene, the financial burden on the producer increases and then the math goes wrong. So the actors while making historical films. The directors, the technicians cannot make mistakes, they have to prepare and practice.
Emphasis on personal preparation even in Hindi-South
You often see the artists chatting on set in their spare time. I have worked on the set in Hindi, I have seen it. What is there or s. S. When I went to Hyderabad to meet Rajamouli, I had the opportunity to experience filming on set for three or four days. Nowhere on set do the actors appear to be conversing with each other. Everyone is involved in the study or preparation of the role for her. Artists all over the world seem to attach great importance to study and personal preparation.
Experiment with artist selection
A lot of thought has been given to the cast of 'Sarsenapati Hambirrao' and some experiments have been done, Praveen said. Actor Gashmir Mahajani has played the roles of Shivaji Maharaj and Sambhaji Maharaj in this film. We have many misconceptions, one of which is that Shivaji Maharaj was short in stature. They used to look small in stature, but in front of whom… it is natural that in front of Afzal Khan their height is less. So it cannot be said that he was short in stature. I deliberately chose Gashmir here. I noticed the height of him, the shape of the body, the body language. He does great driving. Having worked with him before, he knew exactly how to handle this role. Another thing that he consciously did was that Sambhaji Maharaj was part of Shivaji Maharaj. So I took these two roles from Kashmir. Soyarabai's role was also important in this film, as it was in the past. The relationship between Shivaji Maharaj and Soyarabai was important. This role is played by actress Shruti Marathe. Until now we have seen Shruti in a sweet and beautiful role, so I did this experiment by giving her a different role from Soyarabai. I chose actor Rakesh Bapat for the role of Sarja Khan who killed Hambir Rao. He is also famous in Hindi-Marathi as a handsome and delicate-bodied hero. So this time he was given a different role, he said.
Three days for an eight second scene.
Historical film photography is a different challenge, said cinematographer Mahesh Limaye. Where is the historical film going to be shot, how do you go beyond what the writer and director has written and bring it to the audience through the scenes? The cinematographer has to think about this. It requires constant discussion and study. Art directors and costume designers also play important roles in historical films. What kind of costume will it be? You have to know about the historical buildings, the traditional objects, what their colors will be, the colors of the clothes. When installing the frame taking into account the time, you have to think that nothing will come from today. Which means it's also about to be the craziest time of the year. At that time there were no electric lights, whatever light there was in the atmosphere was a torch or the flickering light of oil lamps in the atmosphere. So even if you watch the scenes shot at night, you will see on the screen the natural light of the moon and how the light of this torch or lamp combines to illuminate the environment, the shoot recalled. A scene in a movie is eight seconds long, but if it's shot well, its memory will linger for the next two hundred years, so we've worked hard to make this movie more effective, Praveen Tarde said. Explaining the nature of the effort, Limaye told the story of how he tried three days in a row to capture the eight-second scene. The film shows the sun rising from a mountain. He recalled the scene, which was shot on a mountain by Praveen Afternoon, with a special lens from a distance of seven kilometers and diligent setup every morning for three days. Praveen Tarde, who insisted that such imaginative and hard-working scenes should be seen in Marathi films, said that 'Sarsenapati Hambirrao' would be a landmark in Marathi historical films due to all these efforts.
2022-05-21 18:35:00