Chinamyai Sripaada got angry at trolls for their perverse comments about…
Chinamyai Sripaada's reaction on Nayanthara trolls: South Actress Nayantara recently attended an event. The actress is making headlines these days for her newly released movie 'Connect'. At the preview of this film, the actress came in a very beautiful avatar. Videos and images of this Nayantara look also went viral on social media. While on the one hand, fans were fiercely praising Nayantara, on the other hand, some criticized the actress.
Nayantara trolled for her look
In fact, the site @FilmiFirday shared a video of Nayanthara's 'Connect' film event on their Instagram page. In this, the actress is seen wearing a brown skirt and a crop top. Nayantara is seen making a grand entrance with her husband Vignesh Sivan at the event. In this video, users started making lewd comments to the actress, which another actress from South, Chinmayi Sripada, objected to.


The southern singer stood up to the trollers
Chinmayi Sripada took issue with the troll and, while sharing screenshots of the trolls' lewd comments on Instastory, lashed out viciously. Not only this, Chinmayi has also criticized the FilmFriday page for hiding the comments from trolls instead of deleting them. Sharing screenshots of the comments on his Instagram Story, the singer wrote: "Look at the comments on this post… all sick, it's a good thing @FilmiFirday didn't moderate the comments so we know who the dangerous ones are." .
In another Insta story, the South singer wrote: "I wonder: do all these men breastfeed or not? I wonder what if these men have (sick) daughters…?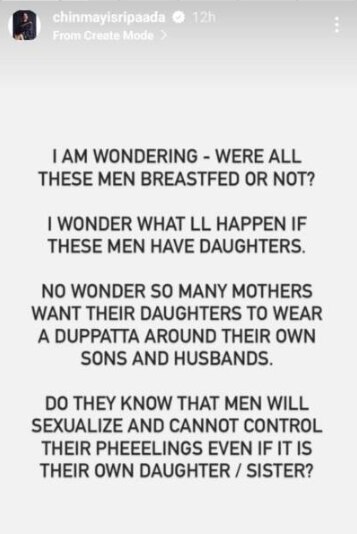 Like Chinmayi, Swati Jagdish, who owns a sex education page, also lashed out at the trolls in the comment section of the post. She wrote, "Here Nayantara is being teased for her breast size, even her husband and her married life are being teased for physical changes. I feel so bad for the women in your life. Especially your friends, younger cousins, etc."
Also Read- Tunisha Sharma Suicide: Ali Baba: Dastan-e-Kabul actress Tunisha Sharma committed suicide and hanged herself during the shooting
Bhojpuri Stars Sketchy Love Stories. Khesari Lal | Pawan Singh | A…
Bhojpuri industry is very popular among the people nowadays. The Bhojpuri industry is second only to Bollywood in terms of viewership. Fans are also very fond of Bhojpuri artists and are also very eager to know everything related to them, be it their movies, songs or their love life. Many couples in the Bhojpuri industry were hugely successful on screen but their love stories could not find a destiny in real life. In this video, find out who those couples who broke up are.
Khesari Lal Table or Pawan Singh's Lal Ghaghra? What songs broke…
The year 2022 was very special for Bhojpuri cinema and especially for Bhojpuri music. Our Bhojpuri songs broke many records on YouTube, even leaving Bollywood and South Cinema far behind. So today we brought top 10 Bhojpuri songs of the year 2022, which you can listen to in the new year celebration or anytime, it will always make you dance.
OTT vs Theater | Is it fun to watch a movie at home or in a movie theater? , ENT Li…
It is no longer the time when movies were released in theaters before, people had no choice but this. Movie theaters were closed for two years due to the Covid 19 pandemic, so many filmmakers turned to OTT. Many viewers also began to wait for movies to come out on OTT instead of watching movies in theaters after Corona. Faced with such a situation, the question often arises as to whether the theater or the OTT platform is better. In this battle of Theaters vs OTT we got to know the opinion of the people in a fun way.