Bhojpuri Stars fans Pawan Singh and Khesari Lal Yadav recorded their f…
Khesari Lal Yadav and Pawan Singh fan moment: Like Bollywood and South Cinema, a large following of Bhojpuri stars is also observed. Fan favorites of Bhojpuri stars have always been on top in terms of loyalty. Pawan Singh and Khesari Lal Yadav are two famous faces of Bhojpuri cinema whose following is not only difficult but impossible to guess. The madness of Pawan Singh and Khesari Lal Yadav seems to be slipping by the fans. Seeing Pawan Singh and Khesari Lal Yadav at a glance, their fans get so desperate that they lose their temper and start doing strange things to get the attention of their favorite stars.
Khesari Lal Yadav and Pawan Singh have two fans who have tattooed the face of their favorite star on their chest forever. Yes, these fans have expressed their love through tattoos. You can see in this image how those who want to tattoo the faces of these stars on their bodies stand for hours hoping to find them.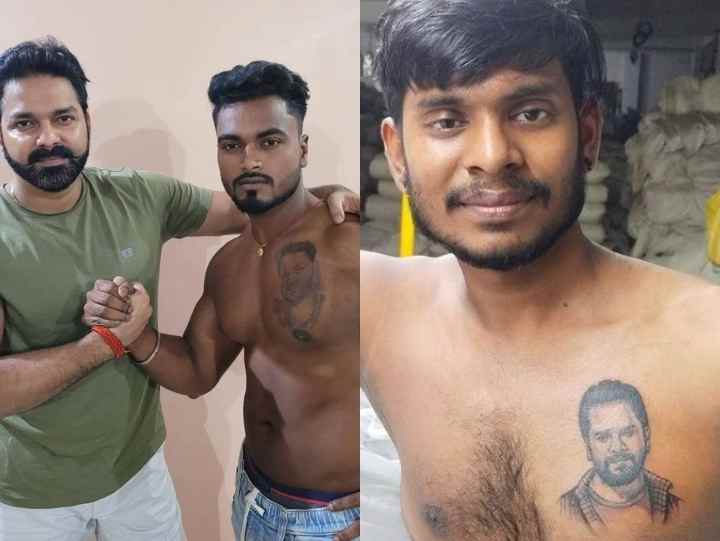 This star did not disappoint his fans either. Instructing his loved ones not to do it, she fulfilled his dream by clicking a photo with him. Fan loyalty to Bhojpuri stars has always dominated the headlines. Sometimes these stars get so caught up in the whirlwind of their fans that it becomes difficult for them to get out of it, but even in the meantime, these stars without being rude to their fans make them more convinced of their love. .
Read this too- Bigg Boss 16: Tina mad at Shaleen, said angrily: 'You made friends with me for the camera'
Bhojpuri Stars Sketchy Love Stories. Khesari Lal | Pawan Singh | A…
Bhojpuri industry is very popular among the people nowadays. The Bhojpuri industry is second only to Bollywood in terms of viewership. Fans are also very fond of Bhojpuri artists and are also very eager to know everything related to them, be it their movies, songs or their love life. Many couples in the Bhojpuri industry were hugely successful on screen but their love stories could not find a destiny in real life. In this video, find out who those couples who broke up are.
Khesari Lal Table or Pawan Singh's Lal Ghaghra? What songs broke…
The year 2022 was very special for Bhojpuri cinema and especially for Bhojpuri music. Our Bhojpuri songs broke many records on YouTube, even leaving Bollywood and South Cinema far behind. So today we brought top 10 Bhojpuri songs of the year 2022, which you can listen to in the new year celebration or anytime, it will always make you dance.
OTT vs Theater | Is it fun to watch a movie at home or in a movie theater? , ENT Li…
It is no longer the time when movies were released in theaters before, people had no choice but this. Movie theaters were closed for two years due to the Covid 19 pandemic, so many filmmakers turned to OTT. Many viewers also began to wait for movies to come out on OTT instead of watching movies in theaters after Corona. Faced with such a situation, the question often arises as to whether the theater or the OTT platform is better. In this battle of Theaters vs OTT we got to know the opinion of the people in a fun way.