Bhojpuri actress Rani Chatterjee Shadi's video goes viral with Samar Si…
Mandap's Rani Chatterjee Viral Video: Bhojpuri actress Rani Chatterjee stays in the headlines every day due to her photos and videos as well as her outspoken statements. For the past few days, a video is going viral on social media in which Rani Chatterjee is seen sitting with a mandap in a wedding dress.
Since they saw that video on social media, the news of their marriage began to circulate continuously. Rani Chatterjee fans are confused after watching this video whether the marriage actually took place or is it a sequence from a movie. In such a situation, after thorough investigation, we bring you this truth related to Rani Chatterjee marriage.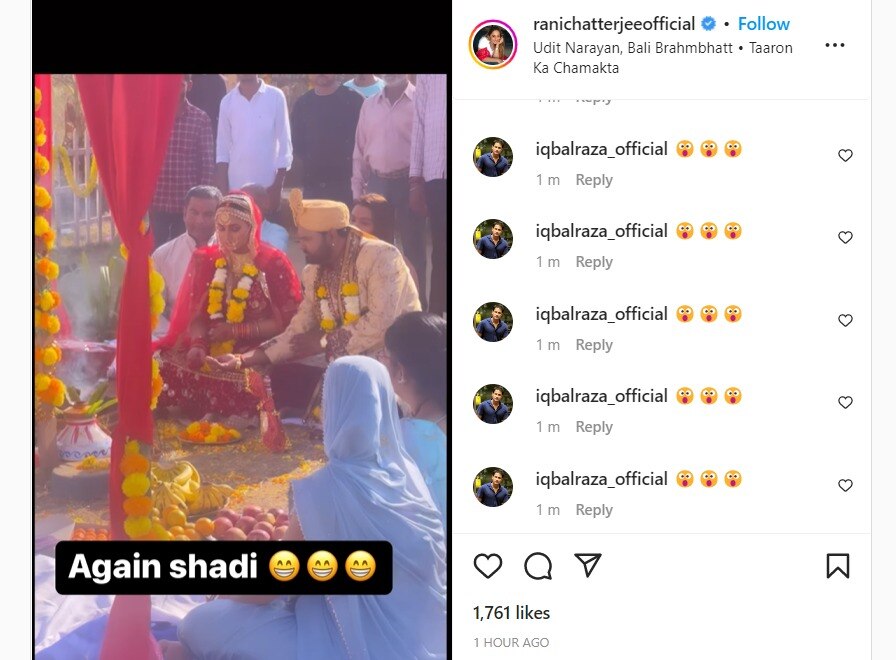 It is absolutely true that in the video Rani Chatterjee is seen marrying a man dressed as a bride, performing all the rituals. But this video is not of the marriage but of the filming of the film. Where this person who is seen with Rani Chatterjee is none other than Bhojpuri actor Samar Singh who is shooting the sequel of his upcoming film.
news reels


Rani Chatterjee has done more than 450 movies in her film career and in these movies she has worn a wedding dress more than 450 times. Tell him that this Rani Chatterjee scene is from the movie Saugandh Bholenath. And unless Rani Chatterjee becomes a girlfriend in a movie, what's the fun? With this news, your marriage confusion must have been erased. Seeing Rani Chatterjee become a bride, there is happiness on the face of the fans, but for a long time Rani Chatterjee fans are desperate to see the real marriage of her.
Read This Also: Empire Magazine: Another Headline In The Name Of 'King Khan'… Shahrukh Khan Listed In World's 50 Greatest Actors
Bhojpuri Stars Sketchy Love Stories. Khesari Lal | Pawan Singh | A…
Bhojpuri industry is very popular among the people nowadays. The Bhojpuri industry is second only to Bollywood in terms of viewership. Fans are also very fond of Bhojpuri artists and are also very eager to know everything related to them, be it their movies, songs or their love life. Many couples in the Bhojpuri industry were hugely successful on screen but their love stories could not find a destiny in real life. In this video, find out who those couples who broke up are.
Khesari Lal Table or Pawan Singh's Lal Ghaghra? What songs broke…
The year 2022 was very special for Bhojpuri cinema and especially for Bhojpuri music. Our Bhojpuri songs broke many records on YouTube, even leaving Bollywood and South Cinema far behind. So today we brought top 10 Bhojpuri songs of the year 2022, which you can listen to in the new year celebration or anytime, it will always make you dance.
OTT vs Theater | Is it fun to watch a movie at home or in a movie theater? , ENT Li…
It is no longer the time when movies were released in theaters before, people had no choice but this. Movie theaters were closed for two years due to the Covid 19 pandemic, so many filmmakers turned to OTT. Many viewers also began to wait for movies to come out on OTT instead of watching movies in theaters after Corona. Faced with such a situation, the question often arises as to whether the theater or the OTT platform is better. In this battle of Theaters vs OTT we got to know the opinion of the people in a fun way.