Ashok Selvan Responds To Trolls Says To Ignore Barking Dogs | Ashok Se…
Ashok Selvan on trolls: Stars often have to deal with trolling on social media. Even the stars of the Southern Film Industry are no stranger to this. Recently, South Star Ashok Selvan has given a proper response to the trolls. He has put up a class on trolling that happens on social media by tweeting it.
Not one, but five Ashok Selvan films were released this year. The special thing was that all these movies were completely different from each other. Although not all were successful at the box office. His films received the best reviews from critics, but did not achieve great success at the box office. Director Blu Sattai Maran, who is also a content creator, recently teased Ashok Selvan and declared him the most failed star in 2022.
Ashok Selvan reacted strongly to this and responded by tweeting. He wrote: 'Ignore the barkers and move on.' Along with this, he also used the hashtag Selfmade.
Ignore the barking dogs and move on 🔥 #Self made pic.twitter.com/bN9ywnw4P4

news reels

—Ashok Selvan (@AshokSelvan) December 17, 2022
Ashok Selvan gained support from his friends and fans for his reaction. Fans advised him to stay away from negativity and to do his job.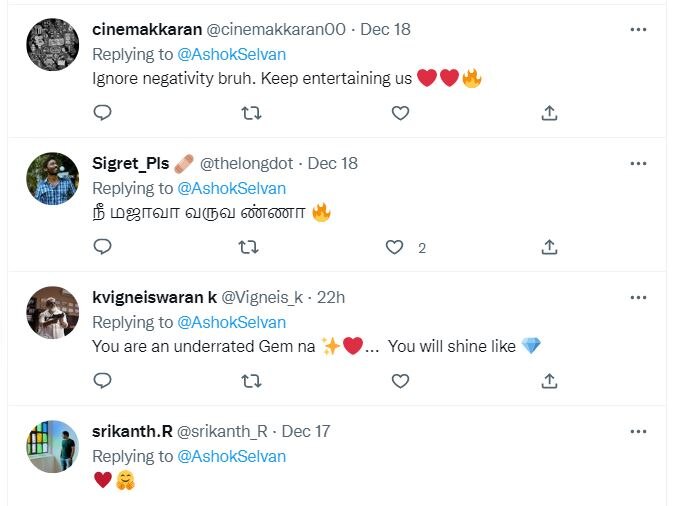 Ashok Selvan has an interesting Tamil lineup and is busy shooting his movies. Ashok Selvan made his acting debut in the 2013 Tamil film Sudhu Kavvam directed by Nalan Kumarasamy and played a supporting role. Ashok Selvan has also worked in Telugu and Malayalam films and 2022 will be the busiest year for the actor as he has done seven films including some cameo roles.
Also Read- Avatar 2 Box Office Collection: Even After Winning Big, 'Avatar 2' Couldn't Break The Record For This Southern Movie
Bhojpuri Stars Sketchy Love Stories. Khesari Lal | Pawan Singh | A…
Bhojpuri industry is very popular among the people nowadays. The Bhojpuri industry is second only to Bollywood in terms of viewership. Fans are also very fond of Bhojpuri artists and are also very eager to know everything related to them, be it their movies, songs or their love life. Many couples in the Bhojpuri industry were hugely successful on screen but their love stories could not find a destiny in real life. In this video, find out who those couples who broke up are.
Khesari Lal Table or Pawan Singh's Lal Ghaghra? What songs broke…
The year 2022 was very special for Bhojpuri cinema and especially for Bhojpuri music. Our Bhojpuri songs broke many records on YouTube, even leaving Bollywood and South Cinema far behind. So today we brought top 10 Bhojpuri songs of the year 2022, which you can listen to in the new year celebration or anytime, it will always make you dance.
OTT vs Theater | Is it fun to watch a movie at home or in a movie theater? , ENT Li…
It is no longer the time when movies were released in theaters before, people had no choice but this. Movie theaters were closed for two years due to the Covid 19 pandemic, so many filmmakers turned to OTT. Many viewers also began to wait for movies to come out on OTT instead of watching movies in theaters after Corona. Faced with such a situation, the question often arises as to whether the theater or the OTT platform is better. In this battle of Theaters vs OTT we got to know the opinion of the people in a fun way.