Aditi Rao Hydari commented on the photo of Siddharth, the actor also repl…
Aditi Rao Hydari and Sidharth: The relationship between the South Siddharth actor and actress Aditi Rai Hydari has been in the news for a long time. Recently, some very special images of both have come to light, which have made their fans very excited. Actor Siddharth recently shared a photo on his Instagram account of him wearing a white hoodie. Some time ago, a photo of Aditi Rao Hydari in a similar sweatshirt came to the fore, in such a situation it will surely be compared.
Sharing the image, he wrote: "Because I've been told I don't post enough. That's why Sunday offering!" Aditi Rao also commented on this photo of Siddharth. He commented: "It's like the Eid moon on Instagram." Siddharth also responded to this and posted a red emoji with two hearts on Aditi's comment.


news reels
Apart from Aditi, Farah Khan Kunder and Divya Spandana also called her cute in the comments, as did the fans.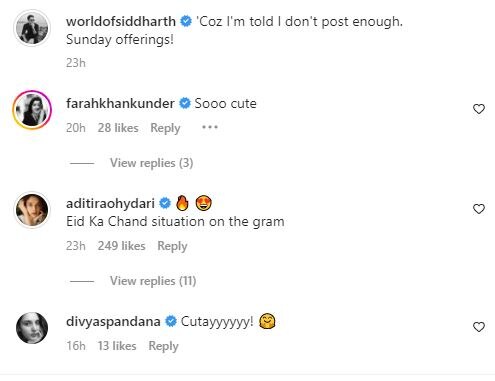 Please tell here that both stars were seen working together in Ajay Bhupathi's 'Maha Samudram'. Reports say that the two became friends on the sets of the film and became close. Although both have never said anything about their relationship. Despite the fact that this pair of both could not show any special feats at the box office, they were both liked by the fans together.


'Maha Samudram' was also Siddharth's last theatrical release. He will soon be seen in 'Indian 2', starring Shankar's Kamal Haasan, opposite Rakul Preet Singh and Kajal Aggarwal. Speaking of Aditi, she was seen in 'Hey Sinamika'!
Also Read: Rakul Preet Singh's Hardships Not Reduced In Tollywood Drug Money Laundering Case, He May Appear Before ED
Bhojpuri Stars Sketchy Love Stories. Khesari Lal | Pawan Singh | A…
Bhojpuri industry is very popular among the people nowadays. The Bhojpuri industry is second only to Bollywood in terms of viewership. Fans are also very fond of Bhojpuri artists and are also very eager to know everything related to them, be it their movies, songs or their love life. Many couples in the Bhojpuri industry were hugely successful on screen but their love stories could not find a destiny in real life. In this video, find out who those couples who broke up are.
Khesari Lal Table or Pawan Singh's Lal Ghaghra? What songs broke…
The year 2022 was very special for Bhojpuri cinema and especially for Bhojpuri music. Our Bhojpuri songs broke many records on YouTube, even leaving Bollywood and South Cinema far behind. So today we brought top 10 Bhojpuri songs of the year 2022, which you can listen to in the new year celebration or anytime, it will always make you dance.
OTT vs Theater | Is it fun to watch a movie at home or in a movie theater? , ENT Li…
It is no longer the time when movies were released in theaters before, people had no choice but this. Movie theaters were closed for two years due to the Covid 19 pandemic, so many filmmakers turned to OTT. Many viewers also began to wait for movies to come out on OTT instead of watching movies in theaters after Corona. Faced with such a situation, the question often arises as to whether the theater or the OTT platform is better. In this battle of Theaters vs OTT we got to know the opinion of the people in a fun way.