Actor Siddharth accused airport security staff of harassing his p…
Siddharth harassed at the airport: The actor Siddharth often makes headlines for his statements. Recently, the actor says that he was harassed a lot by the security agency at the airport. Siddharth expressed his anger at him through his Instagram story and recounted how he was harassed.
He alleged that his parents were 'harassed' by security personnel at Madurai airport in Tamil Nadu. Sharing a post on her Instagram story, she said that airport security staff asked her parents to take coins out of their bags and spoke to them in Hindi while asking the officials to speak to them in English. Siddhartha said that when she protested, the workers said, 'That's the way it is in India.'
Siddharth's post from the airport read: "Rushed by CRPF for 20 minutes at Madurai airport. They asked my elderly parents to take coins out of their bags! And we were repeatedly asked to speak Hindi in English." I talked. Rude Air Force. When we protest They said this happens in India. The unemployed show strength."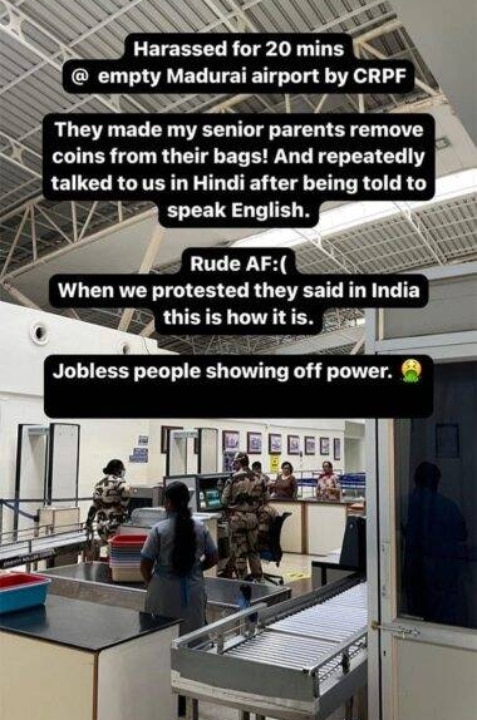 Speaking of the work front, Siddharth was last seen on the 'Escape Live' web series. At the same time, his latest theatrical release was 'Maha Samudram' which was released in theaters last year. This romantic drama was directed by Ajay Bhupathi. Siddharth is currently working on 'Indian 2' directed by S Shankar. The film starring Kamal Haasan is a sequel to the 1996 classic film of the same name. Kajal Aggarwal is in the lead role in Indian 2.
Read this too-
Bhojpuri Stars Sketchy Love Stories. Khesari Lal | Pawan Singh | A…
Bhojpuri industry is very popular among the people nowadays. The Bhojpuri industry is second only to Bollywood in terms of viewership. Fans are also very fond of Bhojpuri artists and are also very eager to know everything related to them, be it their movies, songs or their love life. Many couples in the Bhojpuri industry were hugely successful on screen but their love stories could not find a destiny in real life. In this video, find out who those couples who broke up are.
Khesari Lal Table or Pawan Singh's Lal Ghaghra? What songs broke…
The year 2022 was very special for Bhojpuri cinema and especially for Bhojpuri music. Our Bhojpuri songs broke many records on YouTube, even leaving Bollywood and South Cinema far behind. So today we brought top 10 Bhojpuri songs of the year 2022, which you can listen to in the new year celebration or anytime, it will always make you dance.
OTT vs Theater | Is it fun to watch a movie at home or in a movie theater? , ENT Li…
It is no longer the time when movies were released in theaters before, people had no choice but this. Movie theaters were closed for two years due to the Covid 19 pandemic, so many filmmakers turned to OTT. Many viewers also began to wait for movies to come out on OTT instead of watching movies in theaters after Corona. Faced with such a situation, the question often arises as to whether the theater or the OTT platform is better. In this battle of Theaters vs OTT we got to know the opinion of the people in a fun way.